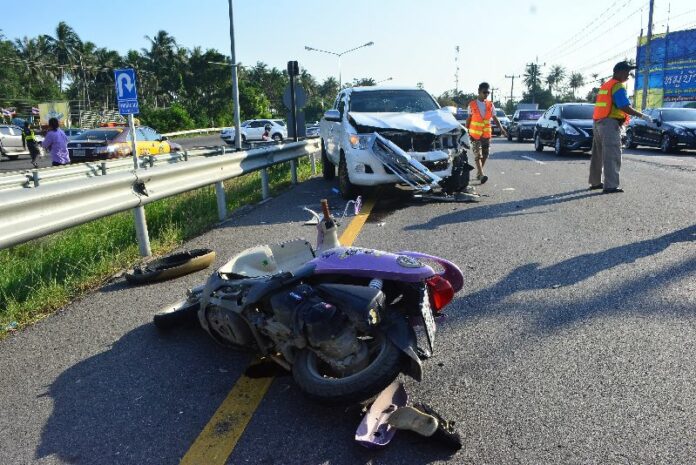 BANGKOK — DUI remains a major cause behind fatalities on Thai roads during the New Year holiday, the so-called 'Seven Dangerous Days,' official said today.
The death toll – 380 in total – is 11.44 percent higher than last year's Seven Dangerous Days, according to Kritsada Boonrat, deputy chairman of the Road Safety Direction Center.
"Statistics of road accidents during the 2016 New Year holiday say that there were 3,379 accidents in total, leading to 380 deaths and 3,505 injuries," Kritsada announced today. "The leading cause of accidents is drink-driving, which accounts for 24 percent."
Other causes include speeding and falling asleep behind wheels. The statistics were collected from Dec. 29 to Jan. 4, dubbed 'Seven Dangerous Days' by officials and media alike.
Highways across Thailand are particularly dangerous during the New Year vacation due to an influx of motorists leaving Bangkok and other major cities for holiday destinations or to go to their home towns upcountry.
In last year's 'Seven Dangerous Days,' 2,997 accidents were recorded, with 341 dead and 3,117 injured. This year saw an increase of 12.73 percent in the number of accidents, totalling 3,379. The 3,505 injuries recorded this year is an increase of 12.5 percent over the corresponding period last year.
The prevalence of drunk driving in the New Year vacation continued unabated despite the ruling junta's campaign to solve the long-standing problem. In December the junta granted security officers the authority to confiscate vehicles from motorists caught driving under the influence of alcohol.
A total of 4,672 vehicles were confiscated under that policy and 4,837 drivers sent to court, said Sirichan Nga-thong, a spokeswoman for the junta's National Council for Peace and Order. The vehicles will be returned once the court procedure is over, Col. Sirichan added.
In spite of the spike in road deaths this New Year season, Sirichan said she believes motorists improved their behavior in road safety in general.
"People and motorists responded to the measures and cooperated with officials, and their driving behavior shows they are clearly more aware of traffic regulations," the colonel told reporters.
Even without the Seven Dangerous Days, Thailand's traffic-related fatalities are often ranked among the highest in the world. One statistic, compiled by the World Health Organization and the University of Michigan, put Thailand second in the world in term of annual traffic deaths.
To reach us about this article or another matter, please contact us by e-mail at: [email protected].