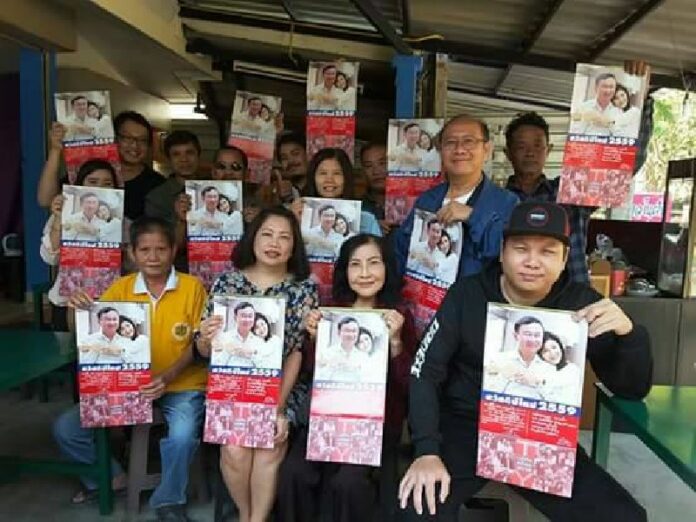 By Pravit Rojanaphruk
Senior Staff Writer
BANGKOK — In a country with a penchant for political feuds, the latest object to ignite trouble is a paper calendar.
The failed bid to control the distribution of 300,000 calendars featuring former Prime Minister Yingluck Shinawatra embracing the ousted and fugitive former premier Thaksin Shinawatra, proves that Yingluck and her older brother are still very popular, said key Redshirts.
The reactions came as former Pheu Thai MP and Redshirt co-leader Weng Tojirakarn confirmed that virtually all the 300,000 calendars printed have been distributed.
Junta-leader-cum-Prime-Minister General Prayuth Chan-ocha said people should think about whether distributing the calendars is appropriate or not, but denied trying to block its distribution.
Earlier, Roi Et provincial Governor Anusorn Kaewkangwal prohibited officers from all districts from being involved with the calendar distributions during office hours. This move came a after village headmen in Chiang Kwan district was found distributing the calendars during a meeting.
Weng revealed today that during Yingluck's visit to a temple in Khon Kaen province yesterday, some 20 calendars bearing her signature, that were distributed by Pheu Thai Party members were confiscated soon after by police and soldiers.
Two Redshirts in Khon Kaen province have been summoned by the military junta for distributing the calendars in public area. The two women, 72-year-old Piyachai Nachai and Orathai Phosri, were told not to distribute them in public areas.
"The incident is a testimony that the military junta is aware that huge numbers of people still adore Prime Minister Yingluck," said Weng. "That's why they don't want to see anything that reminds them of it. Calendars are just pieces of paper and it should not have any super power to undermine national security
"The National Council for Peace and Order [NCPO] has guns and great power but it seems afraid of paper calendars," said Weng, referring to the military junta by their formal name.
Weng added that if calendars have a potent power to boost popularity, then Prayuth should come up with his own junta calendars and distribute them nationwide. What's more, said Weng, some former Democrat Party MPs have also been spotted distributing calendars with their own images, unhampered by the regime. "Such practice is terrible – a blatant double standard."
An undated photo of former Democrat MP Warong Dechgitvigrom, seen distributing calendars featuring his photo and that of Democrat Party leader Abhisit Vejjajiva. Photo: Weng Tojirakarn / Facebook
Sombat Boonngam-anong, anti-junta activist and leader of the Red Sunday Group, said the military regime has unwittingly boosted Yingluck's popularity.
"The NCPO has bitten the bait and it wasn't worth it," reckoned Sombat, who is being tried at military court for sedition for leading a failed bid to overthrow the military junta. "They don't understand the complexity of politics and this enabled their opponents to look good."
"The calendar bears no mention of political conflicts. As for the claim that it affects national security, it depends on whether the popularity of Yingluck is a threat to the security of the military junta or not? And that may truly be the case."
Opponents on social media say it's inappropriate for Thaksin to be featured in the calendars since he has been convicted of corruption. One even linked it to producing calendars featuring Nazi leader Adolf Hitler.
Supporters meanwhile laughed at the growing paranoia of the military regime which staged a coup in May 2014 ousting the Pheu Thai government which was formerly led by Yingluck. "What age are we in? Why are we still dumb?" asked a Facebook user by the name of Prakit Iamsakul.
"They more they do this, the more I want to have one," wrote a Facebook user named Rat Lardphrao today.
Sombat said the fact that only Yingluck is being targeted while Democrat MPs are allowed to distribute their own calendars unimpeded is a blatant demonstration of the existing double standards practised by the military junta.
What's more, said Sombat, it has made the two versions of the Yingluck-Thaksin calendars, which feature the same contents but different front covers, even more sought after. Weng meanwhile said many people have called him and asked if he still has any calendars, only to be made disappointed by his answer.
"Would you like to have one? If you really want one maybe I can really look into it and arrange it for you," Weng asked Khaosod English, sounding as if it's an illicit pornographic calendar.
To reach us about this article or another matter, please contact us by e-mail at: [email protected].
Follow Khaosod English on
and
Twitter
for news, politics and more from Thailand.