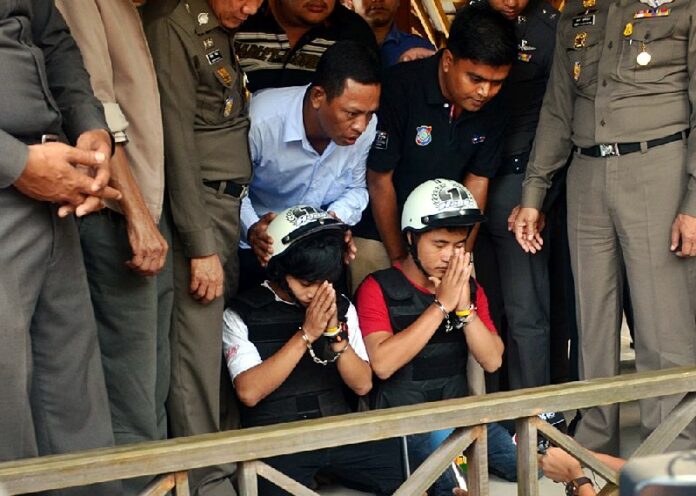 BANGKOK — Hacker collective group Anonymous last night claimed responsibility for taking down at least 14 police websites in Thailand, in a campaign for "justice" for the Koh Tao murder case.
The affected websites include those of the Bangkok Metropolitan Police Bureau, the General Staff Division of Royal Thai Police and regional police stations. The sites appeared to be taken down on Monday and some of them are not yet back online at the time of writing.
The attack followed an announcement posted by Anonymous on Sunday, claiming that police used the two Myanmar migrant workers as 'scapegoats' in the murders of two British backpackers on Tao island murder in September 2014. The hacker group said the case highlighted the Thai police's lack of skill and efficiency to investigate serious crimes.
---
Koh Tao Murders: Court Says DNA Trumps Other Flaws in Case
---
"Anonymous at this point supports a boycott Thailand until such time changes are made with the way Thai police handle investigations involving foreign tourists," said their statement.
Police spokesman Dechnarong Suticharnbancha said he's aware of the attack and has ordered the Technology Crime Suppression Division to track down the perpetrators.
"Even if the source of attack was from abroad, they will be convicted eventually," said Police Gen. Dechnarong. "It's not a problem.Thai police are excellent."
Pol.Lt Prach Mahathaworn from Bangkok Metropolitan Police Bureau, whose website was also targeted by Anonymous, said their team of technicians has been working to bring their offical page back online.
Despite the police spokesperson's confidence, a cybercrime expert believed it would be almost impossible to find the hackers responsible.
"Though the 2007 Computer Crime Act allows police to convict people for actions committed from overseas that cause domestic damage, it is very difficult in practice," said Jompon Pitaksantiyothin from University of the Thai Chamber of Commerce .
"Do we have much chance of tracking the source," he asked. "And with lots of technological progress to conceal identity, how can we be sure the IP address we received refers to the right person?"
Although the attack did not cause much potential financial damage, Jompon said it affected the image of the government organization psychologically.
"It showed that government websites that should be hard to attack were actually easy to take down."
Anonymous group first announced the campaign against Royal Thai Police on Dec. 28, four days after the court delivered the verdict of the Koh Tao murder case and sentenced the two Myanmar defendants to death. The hacker collective group urged followers to sign up for their campaign, calling for justice on behalf of the two defendants that it claimed, based on their own investigation, were scapegoats.
The latest statement on Sunday strengthened its call on foreign tourists to boycott traveling to Thailand.
The campaign is considered the second time that Anonymous attacked the current Thai government, following their action last year in opposition to the junta's attempt to control the internet via a 'single gateway.'
Related stories:
'Anonymous' Declares War on Thai Junta
To reach us about this article or another matter, please contact us by e-mail at: [email protected].
Follow Khaosod English on
and
Twitter
for news, politics and more from Thailand.