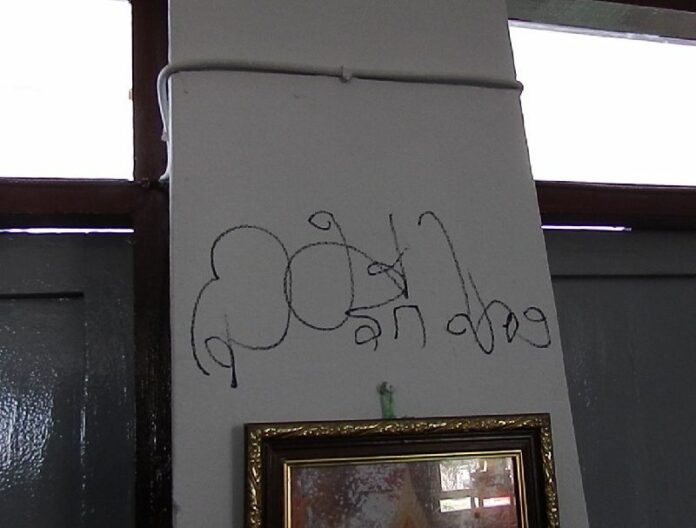 ANG THONG — Three school children confessed to breaking into a classroom and stealing a school camera, to get revenge at the teacher who expelled one of them.
A 12-year-old boy and two 14-year-old boys were arrested Monday, just four hours after the police was informed about the burglary at Wat Luang School. Police in Wisetchaichan town, Ang Thong province said they were able to track them down because the teacher recognized the handwriting left by thieves on the classroom wall.
"I came here to steal your shit," the manifesto boldly declared in mispelled Thai.
"The teacher realized that the handwriting belonged to a student that was just recently expelled," said Police Col. Peeraphan Chantien.
The recently expelled 14-year-old boy, confessed that he instigated the plan, Peeraphan said. The other two decided to join him as they were also regularly punished by the teacher, the officer added.
The boys reportedly told police they used bolt cutters to cut the steel protecting the window and the locks to get into the classroom.
Acting school director, Sanguan Meesakul, said the three boys often skipped the class and neglected their studies.
Police also arrested a 24-year-old man named Arthit Bangwan on charge of receiving stolen property because he bought the camera from the teens for 150 baht, Peeraphan said. The three children claimed to have spent all of their money buying snacks and playing games at internet cafes.
The young suspects have been sent to a youth detention center while the case is submitted to the juvenile court.
The classroom was found broken into on Jan.4 after the long holidays.