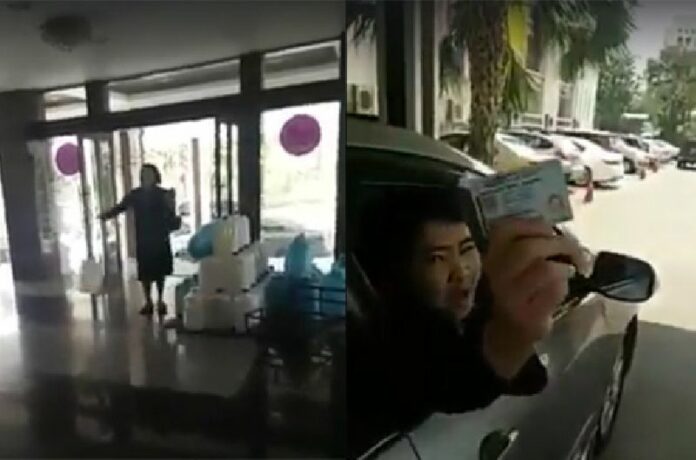 BANGKOK — A court spokesman on Thursday said a judge seen behaving erratically in a viral video suffers from an unspecified mental illness.
Courts of Justice spokesman Suebpong Sripongkul said the woman in the clip reacting furiously to a traffic ticket was Chidchanok Paensuwan, 45, a judge of more than 10 years who was moved to an inactive post two years ago after a similar outburst. Chidchanok no longer presides over trials, Suebpong said.
The clip posted to Facebook on Wednesday showed Chidchanok losing her temper, yelling and throwing a plastic water container toward people at the Department of Land Transport office in Bangkok. She later runs to her car parked in front of the building and calls over the person who took the video to show her ID card.
"Bear in mind that I am your fucking boss!" she shouts through the car's open window. "No need to film my face!"
The Facebook user who posted the clip, Piyawat Suwanwong, wrote that the judge had visited the Department of Land Transport to complain that someone has duplicated her license plate. The judge threw a tantrum after returning to her car parked in front of the building's entrance and finding a traffic ticket.
Suebpong admitted Chidchanok has been involved in similar incidents before. In 2012 she was charged with obstructing traffic in front of the Criminal Court and subsequently fined 1,000 baht.
The former judge was later charged in 2013 for insulting a law enforcement officer after she threw a box containing rice and an omelet at the car of Lt. Gen. Kamronwit Thoopkrachang, the chief of Metropolitan Police at that time.
For the 2013 altercation, Chidchanok was fined 2,000 baht and sentenced to two months in prison, but her jail term was suspended because she plead guilty. The 45-year-old judge was then transferred to work with documents rather than arbitration – but she still kept her formal position as a judge.
Spokesman Suebpong also said Chidchanok was diagnosed with an unspecified mental illness two years ago, and said that Chidchanok had failed to take her medication prior to the incident at the Department of Land Transport.
Chidchanok will be investigated for that latest incident, and if the inquiry concludes she is no longer capable to work as a judge, she would have to leave her position, Suebpong told reporters.
Suebpong admitted there are some other judges who are not in fit condition to work due to both physical and mental health issues. If they commit errors, they would be punished differently, depending on each case, he said.