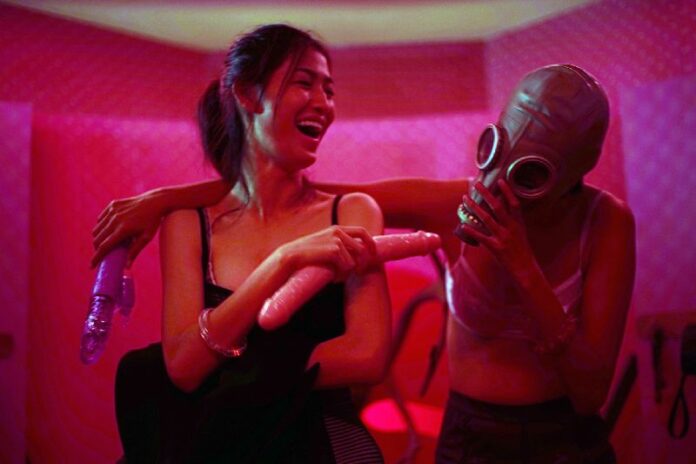 BANGKOK — Five humans – a man with an unusual fetish, a motel worker, two schoolgirls and a former child actor haunted by aliens – connect at a Bangkok love motel.
That's the premise of Thai-directed, surreal sci-fi thriller "Motel Mist," the only Asian film among eight selected for the Europe's A-list International Film Festival Rotterdam, which opened Wednesday.
The film was written and directed by well-known author Prabda Yoon, 42, for whom making the cut in Rotterdam is a distinction, as it was his first time in the director's chair.
Many know Prabda as the son of Suthichai Yoon, the arch-nationalist commentator and co-founder of Nation Multimedia Group. But Prabda the son is a provocative and influential voice among young Thais recognized by critics for his contemporary literature.
At 29, Prabda became the youngest author to win the S.E.A. Write Award for his "Kwam Na Ja Pen" (Probability) anthology in 2002. In 2011, he and other writers made headlines for supporting to amending Article 112, a highly sensitive subject in the kingdom.
Prabda's also known as the screenwriter behind the award-winning films "Last Life in the Universe" (2003) and "Invisible Waves" (2006) directed by Pen-Ek Ratanaruang.
I sat down with Prabda this past Friday afternoon to talk about his new film and being a cultural misfit.
KE: What is the theme of this movie? What's the big motive behind it?
Prabda: The theme of this movie is alienation in many forms. Motel Mist's plot is literally about aliens. But symbolically, it talks about alienation in many ways such as sex, age, class, or even ideology.
KE: Why is "alienation" such a focus of the film?
Prabda: When I live in a society with different attitudes, it creates alienation in terms of ideology sometimes. It makes me feel uncomfortable, and sometimes I feel like I'm an alien who should live somewhere else.
I'm always thinking that Thailand is not a country that lacks quality people. We actually have many quality people, but they're often suppressed by those who have power. At one point of being suppressed, they have to give up, shut up, or are even forced to leave the country. I believe that some of them must have felt like I do, an alien who wonders where's the best place to live.
KE: Why is the story set in a love motel in Bangkok? Why a motel? Why Bangkok?
Prabda: The fact is I had an idea to write about incidents running concurrently in three rooms of a love motel for a long time. Although the plot of "Motel Mist" changed a little, the core idea is still there.
KE: Do you think there's any chance your movie will show in Thailand?
Prabda: The movie will definitely screen in Thai theaters later this year, although I don't know exactly when yet. … I don't think anything will be censored for Thai theaters. Okay, there might be some titillating scenes, but actually they're not that strong that they need to be censored.
But to show the movie on TV, some parts might be censored by blurring because Thai television always blurs … it's bullshit (laughs). So I guess my movie will be blurred ridiculously.
KE: How much of this film came from your own life?
Prabda: (Laughing) None. Well, typically, many people think that indie films must be inspired by the director's life. But for me, I have no interest in using my own life and making it into a film. I wrote and directed this film mostly from my own imagination.
KE: Why do you think this film was selected to screen at Rotterdam?
Prabda: Rotterdam is usually known as an international film festival that supports new directors and experimental movies. Since I'm not on the jury, I can only say that they might find "Motel Mist" has characteristics that suit the Rotterdam policy.
For me, this year is a little strange since the Rotterdam festival in the past few years had around 15 films, mostly Asian. But this year, "Motel Mist" is the only Asian film selected among eight films. I guess they must have been more selective this year.
KE: Why did you go from writing to directing?
Prabda: I always had an interest in films, I used to write film reviews before I wrote books. I'd always wanted to make a film on my own since I studied art, but an opportunity to make one didn't happen at the time. Compared to things I've done; writing, translating and designing, I'd say making a movie is the most difficult.
KE: How do you find directing a movie different from writing a book?
Prabda: It was not as I expected … but in a good way. I first thought I wouldn't like directing a movie since I'm someone who likes to be alone. I don't know how to fit into a social group. I love writing books because it allows me to work on my own, without having to be involved with anybody.
I'd wanted to direct a movie for a long time, but I was worried that it wouldn't fit my personality. I wanted to shoot a movie and edit the scenes quietly alone.
Anyway, directing this movie turned out to be incredibly fun.
KE: Any film you like that could be described as an influence on "Motel Mist?"
Prabda: I love watching B-movies and cult films. … I also like movies that are visually experimental and most of them are in the '60s and '70s. There're so many films I like that come from '70s because they're interesting in terms of visuals and storytelling. Most directors in '70s are interested in social and political issues, so they blend these elements imaginatively. Even many great horror films also came from '70s, such as "Friday the 13th."
KE: Some of your books are perceived as being "difficult to understand" by some readers, do you think this movie is going to receive the same kind of reaction?
Prabda: I think so. But for me, I don't think it's that complicated or hard to understand. It's not quiet or boring like stereotypical Thai indie movies. This one is a thriller with some action. But it might be like some of my books; I believe they're easy to read, but some readers say they don't get it. Maybe because I usually don't explain what the hidden message is.
If there is anything difficult to understand about this film, I think it must be the "alienation" concept. It might require some interpretation by audience just like when they watch The X-Files.
KE: How do you think a general Thai audience would react to your latest?
Prabda: Well, since this movie has a sci-fi dimension, I hope it will create a new mainstream film culture for sci-fi in Thailand.  … Because so far we don't have many sci-fi films, probably because they aren't usually profitable. But I think sci-fi is another interesting film genre, and Thailand shouldn't only create comedies and ghost movies. I think it'd be great if we had more kinds of films.
KE: What do you think of film culture generally in Thailand?
Prabda: Thai film culture still follows the mainstream instead of consuming the art itself. … Actually, the number of people who truly love movies is growing more and more, probably because of increased access to movies online. Therefore, people with interest and knowledge about movies – including quality directors – are increasing. You can say that many Thai movies are as good as international movies.
However, as long as authorities still have narrow, conservative attitudes towards Thai movies, many Thai directors then have to struggle with limited openness and space. Some directors are even forced to leave the country to progress in their career … For example, Apichatpong "Joey" Weerasethakul's movies are sometimes rated highly in international magazines. But in Thailand, sadly, his movies are banned.
KE: What's next?
Prabda: Of course, the second movie! If possible, I want to write one book and produce one movie every year.
"Motel Mist" will compete against seven other films for the Hivos Tiger Awards. The winner will be announced Feb. 5. A teaser for the film was released Tuesday evening. It will show in Thai theaters at some point in the future and later be broadcast on the True Vision channel.