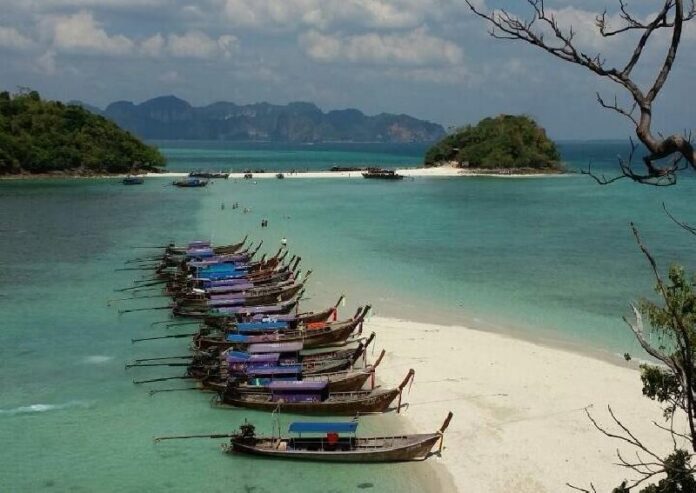 KRABI — A Chinese tourist drowned Sunday evening when the long-tail boat she was riding sank off the coast of Krabi province, police said.
The accident occurred because the boat operator disregarded the National Park's warning to keep to shore due to rough seas, according to a police officer.
"Officials from the National Park told us they already issued a warning," said Charan Nabpetch, an officer at Krabi City Police Station.
However, Maj. Charan said the boat operator, 32-year-old Niyom Suebhet, has not been charged with any crime because police have to formally question family members of the dead Chinese tourist who were also on the boat when it capsized.
"They cannot yet give any testimony because they are still grieving," Maj. Charan said. He identified the deceased as 64-year-old Su Jizhen.
A police report says Niyom was taking the family – six people in total – from Phi Phi islands back to the Krabi mainland when he ran into a storm at around 3pm on Sunday. Niyom reportedly told the passengers to don life jackets, according to police, but it was too late to save Su. A speed boat later passed through the area by chance and rescued all of the tourists.
Mu Koh Phi Phi National Park issued a warning for small-sized boats to stay ashore on Sunday, Charan said. Because he disregarded this warning, Niyom will likely be charged with reckless action causing death after police questioned the victim's family, Charan said.
Charan added that the boat is owned by a tour operator called Tassanee Changruea, who will also be liable for a separate civil lawsuit for allowing Niyom to ignore the storm warning.
Related stories:
Speedboat Propeller Severs Tourist's Leg
5 Chinese Tourists Injured in Speedboat Collision
Teeranai Charuvastra can be reached at[email protected] and @Teeranai_C.