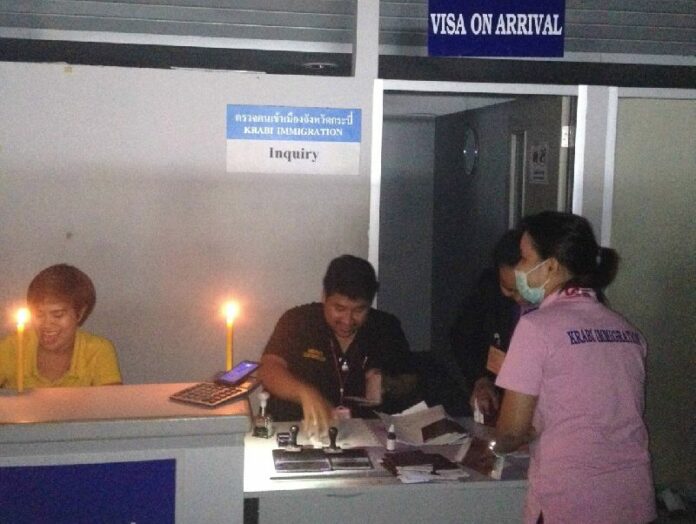 KRABI — Travelers got an early start to Valentine's Day yesterday at a romantically lit Krabi International Airport, where staff burned candles to keep things moving during a six-hour power outage and security lapse.
The main electrical system was offline for maintenance, and then the backup generators failed in the passenger terminal building from 9am to 3:30pm on Wednesday. The disruption affected officers who had to frisk more than 3,000 arriving passengers and write down their information on paper, all by candlelight.
Passengers were affected as well due to the unexpectedly slow process and lack of air conditioning.
Maj. Wanlee Noothong of the Krabi Immigration Bureau said background and criminal record checks couldn't be completed yesterday due to the power failure. However, police are checking back over passengers' records, Wanlee said. Fortunately, their post-entry review found no blacklisted people or passengers with criminal records, Wanlee said.
Airport Director Attaporn Nuang-udom said he was given two days notice by the provincial electricity authority about maintenance work and upgrades to be carried out 9am to 4pm, but he didn't expect the backup generators to fail.
Attaporn told a reporter by telephone today the back-up generator system is working again. He said the airport will rent generators in the near future to prevent such an incident from happening again.
Passengers queue Wednesday at Krabi International Airport
Chayanit Itthipongmaetee can be reached at[email protected] and @chayaniti92.
Follow Khaosod English on Facebook and Twitter for news, politics and more from Thailand. To reach Khaosod English about this article or another matter, please contact us by e-mail at [email protected].