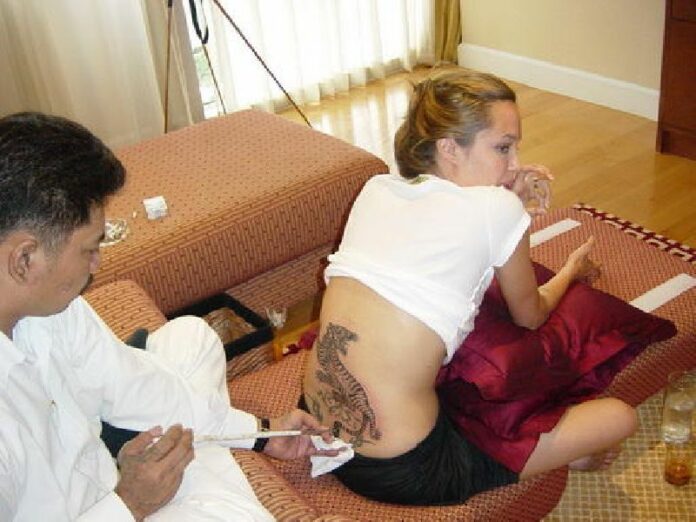 PATHUM THANI — A famed tattoo master remains tight-lipped about reports he recently traveled to Cambodia to put fresh ink on Hollywood celebs Brad Pitt and Angelina Jolie.
Sompong "Ajarn Noo" Kanpai, a Pathum Thani-based master of mystical tattoos known as sak yant would only confirm through his office Friday that he traveled to Cambodia in January but declined to say it was to tattoo the world famous couple.
"Many reporters may got the news from Ajarn Noo's disciples' Facebook posts and the photos could be snapped without our knowledge," said Samroeng Jaritpan, a secretary at Ajarn Noo's School of Sak Yant.
Samroeng sent a photo said to be the tattoo artist, who has previously inked the couple, meeting with clients Friday in Thailand.
Woman's Day first reported Feb. 8 that Jolie and Pitt had a secret session with Ajarn Noo. The anonymously sourced report was picked up by several other media agencies.
Ajarn Noo is known to be a master of the "five in a row" (Ha Thaew) tattoos, which some believe grants supernatural powers.
Jolie, 40, reportedly had 'five-row' script inked on her left shoulder blade by the same master in 2003 and later returned for the tiger designed on her lower back in 2004.
Ajarn Noo, seated at right, in a courtesy photo from his office.
Chayanit Itthipongmaetee can be reached at[email protected] and @chayaniti92.
Follow Khaosod English on Facebook and Twitter for news, politics and more from Thailand. To reach Khaosod English about this article or another matter, please contact us by e-mail at [email protected].