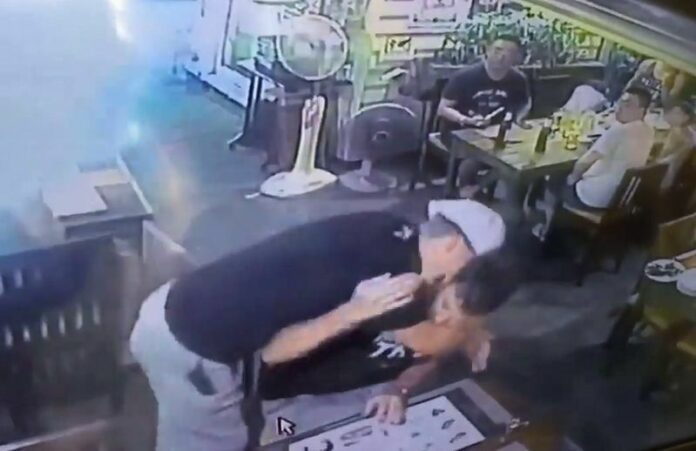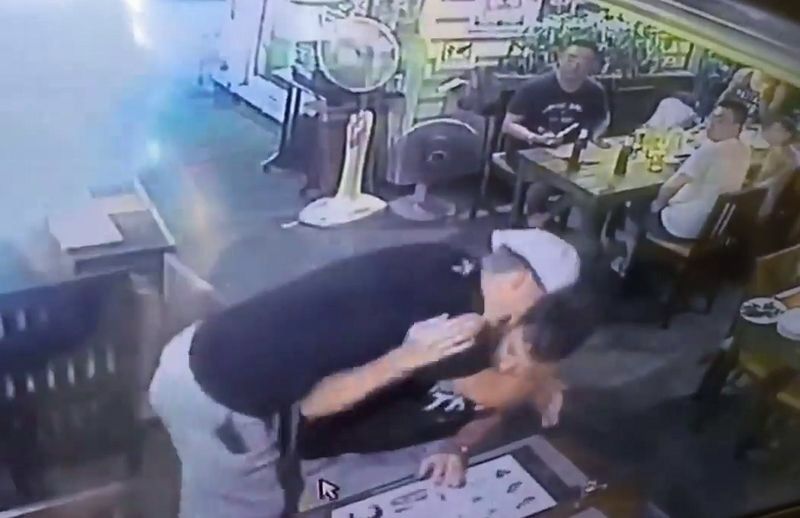 PATTAYA — Things turned spooky at Surf Kitchen restaurant in Pattaya on Thursday night when a zombie outbreak struck three farang customers.
Footage from a security camera showed the moment at around 10pm on Thursday when a man sitting at a table was attacked and bitten on his neck by another man who was acting like a zombie. The owner of the restaurant believed the unusual scene, like something from a horror movie, was a prank initiated by three men he thinks are Russian.
"I believe it was a prank," said Krit Boonsawad, the restaurant owner. "But they scared other customers. One of them tried to bite a girlfriend of a separate Russian guest, so he punched him in his eye."
Krit said three Russian men came into his restaurant separately and sat alone at different tables like they did not know one another. After paying for his meal, the first Russian man fell down to the floor, started to act like a zombie and ran to the second man and bit his neck. Upon being bitten, the second men acted in a similar manner and bit the third man.
The owner said he tried to call police but it took too long for them to arrive. The restaurant then restrained the three men with its own employees and asked them to apologize before letting them go.
"They appeared to be friends," Krit said. "I didn't do anything more than that, as I thought there might be a fourth person filming the scene."
Krit said he did not want to file a complaint against them since it could be nothing more than just a public nuisance charge. Though he said Pattaya police are now trying to track down those three unnamed men.
Sasiwan Mokkhasen can be reached at [email protected] and @amsasiwan.
Follow Khaosod English on Facebook and Twitter for news, politics and more from Thailand. To reach Khaosod English about this article or another matter, please contact us by e-mail at [email protected].