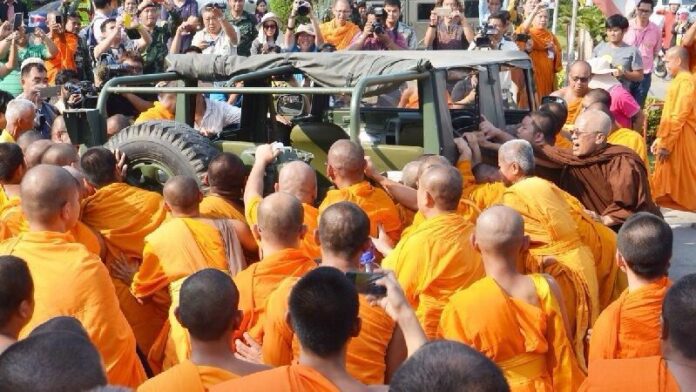 By Pravit Rojanaphruk
Senior Staff Writer
BANGKOK — A prominent Buddhist scholar warns that making Buddhism the national religion will do more harm than good and cause religious conflict in Thailand, where many profess other faiths including Islam and Christianity.
At at a time when loud calls are coming from some quarters for Buddhism to be legally enshrined as the official religion of the land, Sulak Sivaraksa predicts any serious consideration to the demand could cause religious turmoil like that experienced in countries such as Sri Lanka and Myanmar.
"Those who think like this are extremely nationalistic," Sulak said.
His reaction came as some monks and Buddhist laymen are calling for a national religion to be written into the next constitution, most visibly on Feb. 15, when hundreds of monks clashed with soldiers west of Bangkok.
A spokesman for the junta-appointed drafters tasked with writing the next constitution, Amorn Wanichwiwatana, was noncommittal to the idea.
Sulak urged Thai Buddhists to think about fellow Thais of other faiths.
"It's most inappropriate and will do more harm than good. Don't we recognize the value of Muslims?" asked Sulak, adding, "A [Thai] female Christian told me being a woman is disadvantageous enough."
Sulak attributes such yearning to a narrow understanding of Buddhism and ultra-nationalistic ethos.
"It's because this country has taught people to be nationalistic, so they think we must have a national religion too," he said, adding that the fact remains that Thailand has always been ethnically and religiously diverse. "Buddhism is also a religion which teaches people to reduce one's ego and to nurture loving kindness. The Buddha taught people to love all mankind."
Angkhana Neelapaijit, a national human rights commissioner who is Muslim, said for the sake of equality and respect for those professing other faiths and peaceful coexistence, no religion should be made national religion.
The subcommittee Angkhana chairs actually submitted a proposal to the Constitution Drafting Committee urging them to state in the draft constitution that while Thailand is a unitary state, it is also culturally a pluralistic society with diversity in religious belief.
Angkhana attributes the recurring attempt to make Buddhism a national religion to the controversial behavior of some well-known monks, and the belief that making it the national religion would strengthen Buddhism.
"Perhaps we should teach people about the essence of religion," Angkhana said.
'It Won't End Nicely'
Former editor of a progressive journal Pacarayasara Magazine, Pipob Udomittipong, who himself is Buddhist, said Buddhism is being politicized by such demands.
"Making Buddhism the national religion will tie religion to the state and politicize it," he said, adding that ordinary Buddhists in Chiang Mai province where he lives do not seem to care about the matter which is making headlines in Bangkok.
Pipob warned that if such a scheme were ever to succeed, it would have grave repercussions for Thailand. "The conflicts in the three [predominantly Malay Muslim] southern provinces will acutely exacerbate. [Separatists] will be able to recruit more people, and the issue would lead to more violence. The ending won't be nice."
Charter drafter spokesman Amorn meanwhile was circumspect about the proposal. He told Khaosod English that all faiths are already protected in the current draft charter, and he believes the current status quo is better than the proposal.
Asked if the charter drafters will ever give serious thought to the proposal, Amorn said people should wait to see the final draft, which is due by the end of March.
"You will know when the time comes," he said.
Related stories:
Hundreds of Monks Clash with Military West of Bangkok (Video)
Pravit Rojanaphruk can be reached at [email protected] and @PravitR.