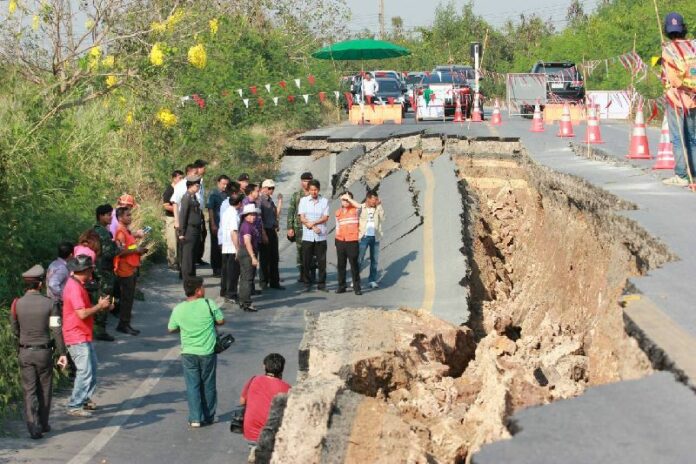 PATHUM THANI — A chasm opened wide for the third time in eight months on a road in northern metro Bangkok yesterday.
A reminder of Thailand's ongoing drought conditions, the road running along the east side of Leab Khlong 13 in Pathum Thani province collapsed due to subsidence on Tuesday, leaving a four-meter fissure over 100 meters long.
The canal's water level had dropped sharply recently, according to provincial Gov. Surachai Kan-asa, and a crack was spotted in the road last week.
The road will be closed for repairs for the foreseeable future. However, commuters can travel along the western side of Leab Khlong 13 to reach Lam Luk Ka and Thanyaburi districts.
A number of similarly dramatic road collapses heralded sudden awareness of Thailand's severe drought condition last year. Deprived of its usual moisture, the settling of the alluvial floodplain soil split and cracked open roads in many locations including Pathum Thani, Saraburi and Bangkok.
It was at least the third incident of severe subsidence damage to the Leab Khlong 13 road. In July, it swallowed a cargo truck, and then several weeks later, opened up beneath two grading vehicles sent to repair it.

Related stories
Poor Road Intercepts Alleged Robbery Suspect
Chayanit Itthipongmaetee can be reached at[email protected] and @chayaniti92.