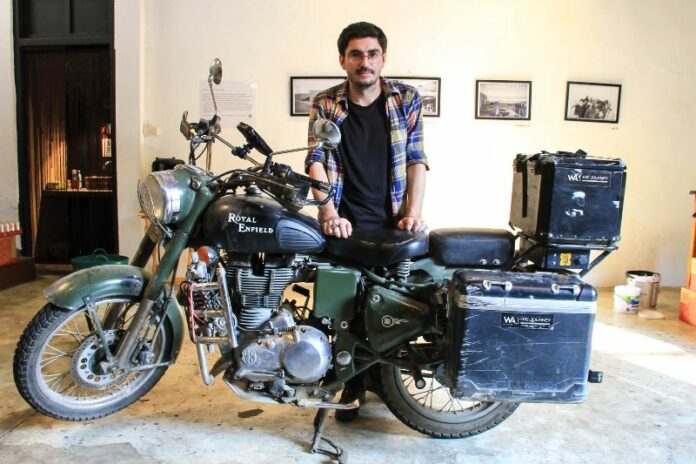 BANGKOK — People obtain motorcycle licenses for different reasons, but an award-winning photojournalist got one for a specific purpose: to travel the world.
Ten months ago Walter Astrada hopped on a Royal Enfield with his Nikon, a sleeping bag, a cooker, some tools and little in the way of planning. The Argentinian rode out of his second home of Barcelona and headed east.
"I planned only my visas, that's it," he said.
In February that bike brought Astrada to Bangkok, where the 41-year-old whose photographs have won many top awards during his career working for outlets such as Associated Press and AFP, is holding a five-day workshop and exhibiting photos from his trip at "The Journey" at Cho Why on Soi Nana.
Travel costs money, of course. Astrada now makes a living by selling prints of his work, giving lectures and hosting workshops in destinations along his route.
Astrada said he chose black and white for the theme of travel to communicate to his audience the idea there is little different between each country.
Asked what the biggest obstacle he faced on the road, Astrada paused to think. It wasn't that he couldn't find a gas station in a desert or got lost or couldn't communicate with people. Instead it was the simple absence of a road.
"At some places in Mongolia, there was no road at all," Astrada said, pulling out his smartphone to show photographic proof. "In the middle of rock, sand and mud, I had to make a path on my own."
Astrada said he chose to travel the world on two wheels because flying is too fast. He explained the difference compared to a friend flying from one place to another.
"[My friend] would get to the destination in only a few hours, while I still can enjoy culture, people, food and environments," Astrada said.
After his photo exhibition and workshop, Astrada will get back on the road into the north toward Mae Hong Son province to conquer its infamous 1,864 curves. Then he's on to Laos and Cambodia. What's next after that?
He said that remains unplanned.
Astrada's photo exhibition "The Journey" featuring photographs taken during his 10-month journey on two-wheel motor takes place from Monday until the end of March at Cho Why on Soi Nana 17 near Charoen Krung Road.
Related stories:
Roam Old Streets, Appreciate Art on Gallery Hopping Night