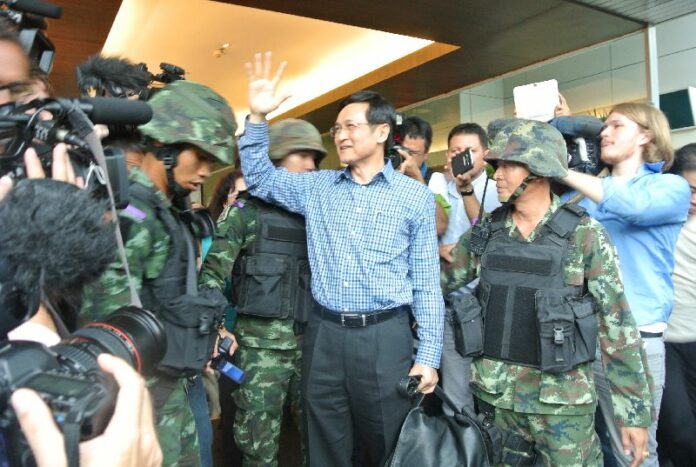 By Pravit Rojanaphruk
Senior Staff Writer
BANGKOK — A former education minister has again decried the revocation of his passport and right to travel freely as "unjust" after letters emerged showing it was expressly ordered in writing by junta leader cum Prime Minister Prayuth Chan-ocha.
Jaturon Chaisang, who served on the cabinet of former Prime Minister Yingluck Shinawatra and was arrested after refusing to hand himself over to the junta after it seized power in May 2014, said he was surprised to find the decision to strip him of his passport came in writing from Gen. Prayuth.
"He just wanted to deal with me but doesn't care whether what he did was lawful or not," the 60-year-old member of the former ruling Pheu Thai Party said Monday.
Two letters back Jaturon's claims that Prayuth was behind the order. One dated June 15, 2015, indicated Deputy Prime Minister Gen. Prawit Wongsuwan "received an order from the Prime Minister" to have Jaturon's passports revoked since he faced charges of sedition and violating the orders of the National Council for Peace and Order, the formal name of the military junta.
It was sent by Watcharapol Prasarnratchakij, a political affairs secretary in the prime minister's office, to Gen. Somyot Pumpanmuang, chief of police at the time.
A second letter issued by a deputy police commander two months later on Aug. 15, 2015, asked the foreign ministry to cancel Jaturon's passports, citing Prayuth's order.
In January, Jaturon filed a lawsuit against the military government seeking the return of his three passports on the grounds the order to revoke them was unlawful.
The court has yet to decide whether to take up the case, but Jaturon said he expects a decision soon.
"I understand that [Prayuth] is using numerous measures against me because he wants me to stop talking. But what's happening to society means I cannot stop performing my duty," Jaturon said by telephone Monday. "[He] said I repeatedly committed mistakes, but it's probably that I did things not to his 'liking' but not something illegal. I did not violate any law, and all the legal cases have to do with my differing opinions."
Asked where he would like to travel were he able, Jaturon said Canada, China, Japan, Germany and the United States.
"In the past year or so, I have wanted to visit many countries. I want to take my grandchildren to Japan, visit my niece in Canada and see a doctor in China, as well as seek health treatment in Germany. I wish to visit my friends and visit some universities in America, but time passes by and I don't know how long it would be before I can travel abroad again," said Jaturon, whose bank accounts have been frozen by the junta since May 2014.
He was arrested May 27 while in the middle of being interviewed by foreign and domestic media at the Foreign Correspondents' Club in Bangkok after announcing he would not report in to the junta as an act of civil disobedience.
He was since brought in for additional "attitude adjustment" due to his criticisms.
Gen. Prayuth has previously made it clear that Jaturon's criticisms are unwelcome under military rule.
"Don't pick a fight with me. Look at your own behavior. If I warn you many times, and if you don't obey me, you will be punished," he said in September. "If you don't want to be punished, wait for the new constitution and the election. Only criticize me after those things happen."
Related stories:
Pheu Thai's Chaturon Fights for Right to Travel
Critic's Passport Revoked as Junta Reaffirms Ban on Criticism
Thai Junta Renews Summons Orders to Quash Criticism
Fugitive Ex-Minister Arrested During Interview With Foreign Media
.
Follow Khaosod English on Facebook and Twitter for news, politics and more from Thailand. To reach Khaosod English about this article or another matter, please contact us by e-mail at [email protected].