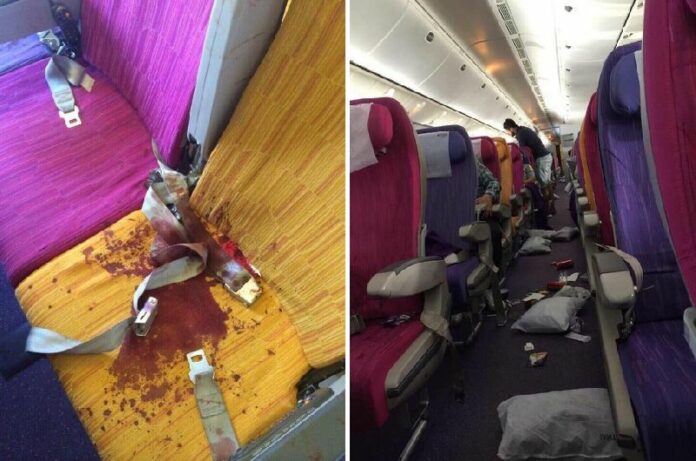 BANGKOK — Air turbulence was blamed for six injuries Monday on a Thai Airways flight from Jakarta to Bangkok.
The Boeing 777-200 was carrying 86 people — two pilots, 12 flight attendants and 72 passengers. Flight TG434 was reportedly traveling through Singaporean airspace at around 12:35pm on Monday (local time) when the turbulence occurred, according to a Thai Airways press release.
Facebook user Kru P'Birth, claiming to be one of the cabin crew, later posted to Facebook that a man described as Middle Eastern-looking didn't fasten his seatbelt during the incident.
That passenger was allegedly flown into the air and hit his head, resulting in an injury.
Kru P'Birth's Facebook post was deleted Tuesday afternoon, shortly before Thai Airways made an official announcement.
A screengrab of Facebook user Kru P'Birth

Charamporn Jotikasthira, president of Thai Airways, said that the incident was caused by air turbulence which injured one passenger and five crew members.
The six were reportedly being treated at a nearby hospital after the plane landed at around 3:40pm on Monday at Suvarnabhumi Airport. Their medical expenses would be covered by Thai Airways, Charamporn said.