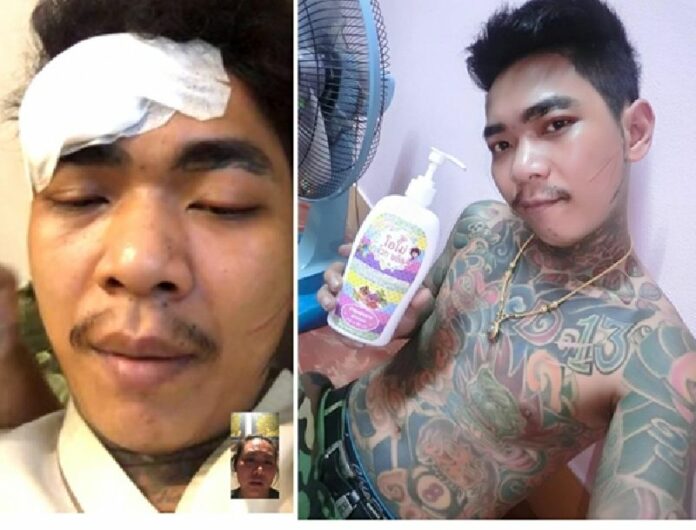 Sasiwan Mokkhasen
Staff Reporter
BANGKOK — Neither gun nor gunshot wound could be found after internet celebrity Nae Wat Dao purportedly shot himself during a streaming broadcast on Facebook Live yesterday morning.
Police said they found no firearm in the room of Makharin Phumsaart, aka Nae Wat Dao, and a doctor at the hospital where he was admitted told them the only injury he sustained was a small scratch.
"The news said the gun was used on his head, if it was true there must definitely be a severe wound," said police Maj. Gen. Uthasin Ruangdet. "But from the informal conversation with the doctor, it was confirmed no stitches were made, as it was only a scratch."
---
Did a Thai Net Idol Just Shoot Himself on 'Facebook Live?'
---
The video of Nae trying to commit suicide while live broadcasting through his Facebook account, which has more than 1 million followers, was unavailable by Saturday afternoon. It left many wondering whether they had witnessed a tragedy or hoax.
Saturday evening police in Bangkok's Bang Phlat district inspected the scene after Nae was taken to Siriraj Hospital. No gun, bullet or blood were found inside his room. His relatives said they did not hear the sound of a gunshot but saw Nae sitting and bleeding from his bed, according to Thairath.
Nae was reportedly transferred from Siriraj to a private psychiatric hospital where he used to be a patient. The 26-year-old net idol has reportedly been released from the hospital.
Deputy Police Chief Pongsapat Pongcharoen on Saturday said he already ordered the Technology Crime Suppression Division to look into the case for any illegality. He said Nae must be warned over the effect his video could have upon children.
Wannapa Pongson, an associate of Nae who posted a video saying Nae had indeed shot himself but survived, posted an image Sunday morning of her video chatting with Nae.
Along with a photo showing his bandaged forehead, Wannapa also posted hospital toxicology results allegedly showing Nae was not intoxicated.
Nae has yet to comment upon the incident.