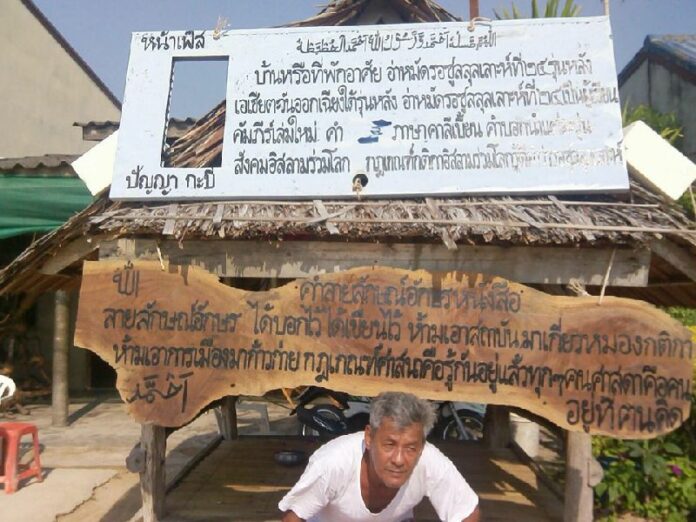 KRABI — A combined task force of security officers and Muslim clerics yesterday raided the home of a 62-year-old man in Krabi who decreed himself the new prophet of Islam.
Meed Mamart was given a stern lecture Saturday to stop his blasphemous actions, and his heretical writings were burned for good measure, the clerics said, though the self-styled prophet appeared to be unrepentant.
"He won't admit that he did wrong," said Wallop Kullamat, a member of the provincial Islamic committee, which led the raid. "He said he has his own way. He said he doesn't accept the Koran, because he has his own holy book. He said he won't stop."
Local secular and religious authorities burn the signs and literature of Meed Mamart, a Krabi man who has been promoting himself as the 25th Muslim prophet.
Soldiers joined dozens of officials from the state-sanctioned Islamic committee, police force and local administrative agencies in a raid of Meed's home in the Nuea Klong district Saturday where he preached his new dogma: That he was the new rasul, or divine messenger, sent by Allah to the people of Southeast Asia.

A banner at Meed Mamart's house proclaims that he is the 25th Prophet of Islam and has written a new Koran in the 'Calibean' language
According to his writings, Meed claimed he was the 25th rasul in Islamic history. This contradicts conventional Islamic teaching that the Prophet Muhammad was the 25th – and last – of the prophets (Meed doesn't dispute Muhammad's prophet status but insists he was No. 24).
He also claimed to have penned a new holy book for Muslims, written in "Calibean" language.
Calls to Nuea Klong Police Station were not answered Sunday.
Wallop, the Islamic committee member, said by telephone on Sunday that Meed was not detained or charged with any crime, and the visitors only gave him "a lecture" about his behavior, which "causes religious division."
The crowd also burned Meed's books and banners before leaving his residence.
Related stories:
BKK Airport Apologizes for Searching Muslim Cleric's Headwear
Muslim Group Protests Khaosod Coverage of IS Atrocities
Thai School Director Transferred for Banning Hijab
Teeranai Charuvastra can be reached at [email protected] and @Teeranai_C.