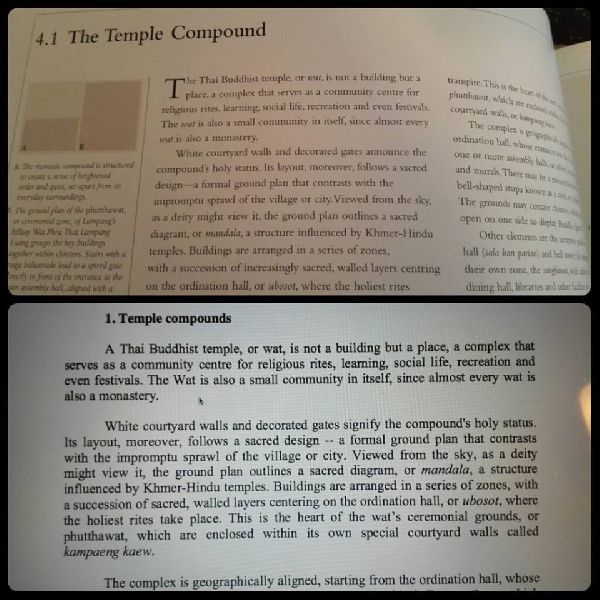 By Teeranai Charuvastra
Staff Reporter
BANGKOK — "A Thai Buddhist temple, or wat, is not a building but a place, a complex that serves as a community centre for religious rites, learning, social life, recreation and even festivals," read Wattana Boonjub's 2009 thesis on Thai architecture.
As a researcher discovered and shared online recently, there was one problem with that and many other sentences from Wattana's dissertation. Someone had written exactly the same thing three years earlier in a book titled "Architecture of Thailand."
Today, the linguist working for the Department of Fine Arts admitted to lifting entire passages word-for-word from the book for his doctoral thesis – but insisted the act did not constitute plagiarism.
In Wattana's thesis, which can be found online, the 52 pages comprising one of its six chapters was copied with alteration from the 2006 book authored by Nithi Sthapitanonda and Brian Mertens.
"Just found a shocking plagiarism in a Thai PhD thesis," researcher Poe Limkul wrote on Facebook along with images comparing the book to the dissertation. "And it is not just one [instance], it repeated multiple times. Within 60 seconds I recognized he literally copied 2 entire chapters from a book published 3 years prior to the thesis."
Comparison of a a doctoral dissertation and book published three years earlier. Image: Poe Limkul / Facebook
Silpakorn University, where the thesis was completed, has promised to investigate.
The thesis was submitted to the school's Faculty of Architecture. It indicates that two academics and one national artist reviewed and accredited it prior to publication.
Wattana did not use any footnotes or citations anywhere in his thesis apart from a list of sources cited in a bibliography at the end, one of which identified "Architecture of Thailand" by Nithi Sthapitanonda and Brian Mertens as one of his materials.
Nowhere in the purloined chapter did Wattana attribute the material to Nithi and Mertens.
Reached for comment Wednesday, the bureaucrat defended his action, saying it was sufficient to list the "Architecture of Thailand" in the bibliography.
"I didn't plagiarize the book. I merely lifted the content for my use," said Wattana, who works as a linguist in the Department of Fine Arts' literature and history division. "I cited him [Nithi] in the bibliography. I said clearly that I used Nithi's work. I didn't have enough wisdom to come up with that work on my own."
A staff member at Silpakorn University's Faculty of Architecture said the university is taking the matter seriously.
"We are investigating this issue. We just learned about it today," said the staff member, who declined to give her name because she's not authorized to speak the media. "According to the regulations, if he's guilty, he will be stripped of his degree."
The university referred a reporter to graduate school dean Panjai Tantatsanawong but said he was not in the office.
Academic integrity is lightly policed in the kingdom's universities, where a pervasive culture of student cheating continues under pressure from high-stakes testing. There have been a number of high-profile cases involving plagiarized academic theses over the years.
Wattana said he's unconcerned by the investigation because he has no attachment to his doctorate.
"Whether they strip me of my degree is the right of the committee. I don't pay much attention to my doctorate anyway," Wattana said. "The heart of my work has already been accomplished. When people call me or write my name without the honorific 'Dr.,' I'm not angry either."
Wattana said he has discussed the matter with Nithi, and the author holds no grudge against him. He also questioned the intentions of the researcher who brought the matter to public attention.
"The person who raised this issue, what kind of agenda do they have?" Wattana said.
In a Facebook post published Wednesday, Nithi said he doesn't mind the plagiarism because it helps spread his work.
"If anyone finds benefit in it and uses it, whether by plagiarizing it entirely or partially amending it for use, personally I do not have any problem with that," Nithi wrote. "But if it violates any system in the university or educational institute, it's up to that institute to take action as it deems fit."
Related stories:
Thailand's Students Marked Down For Cheating
Teeranai Charuvastra can be reached at [email protected] and @Teeranai_C.