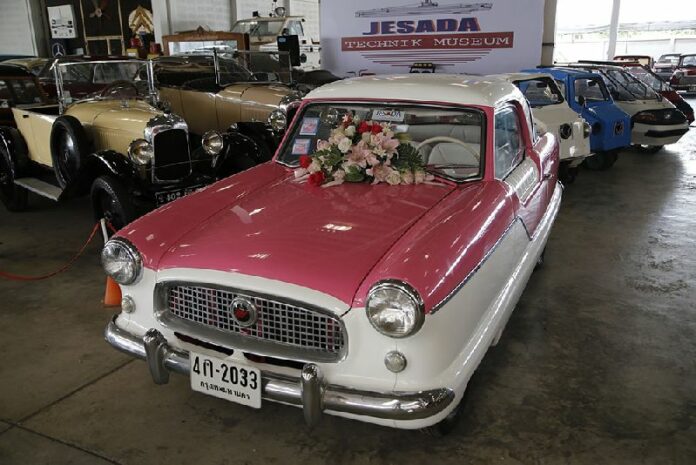 NAKHON PATHOM — Find chrome curves and steel spans of DeLorean, Ford, Citroen, Cessna and more just a short hour west of Bangkok.
Despite terrible traffic and exorbitant taxes, Thailand's vibrant car culture and love of the automobile might best found at in the collection of Jesada Deshsakulrith, one of kingdom's most notable collectors, at Jesada Technik Museum.
Open to the public, the museum is home to hundreds of historic imported vehicles, from classic Hondas and Mustangs to vintage airplanes.
What makes this collection unusual is that all the cars are legally registered to drive on roads here. Importing second-hand cars is illegal; a form of protectionism against foreign competition. So how Jesada pulled off getting them all street-legal must have been quite a feat.
Here's an inside look at some of Jesada's classic cars and vintage vehicles.
DeLorean DMC-12
The DeLorean Motor Co. produced only one car, the DMC-12, but it was granted timeless immortality in the '80s by "Back to the Future." The body features a brushed stainless steel shell, one of the only cars in history to feature this design element. DeLorean went bankrupt under ugly conditions and shut down in 1983.
Volkswagen Kharmann Ghia
Italian design studio Ghia sculpted the lines for this iconic German car. In the 1960s it was Volkswagen's flagship model, boasting the most features and a price to match: It cost about twice the price of a Beetle, Volkswagen's entry-level offering.
Ford Mustang
The Mustang started as a project under Ford legend Lee Iacocca and grew into an American icon. The design created an entire legion of cars called "pony cars" such as the Chevy Camaro and Dodge Challenger. Ford introduced the car in 1964, and it's still being produced.
Volvo P1800ES
Before Volvos evolved into the utilitarian "brick" design we know today, the iconic P1800 was futuristic and sexy. The model at Jesada Technik is the ES-designated model, which employs a "shooting brake" design.
BMW 250 Isetta
BMW introduced this microcar in 1955, and the world took notice. Drivers and passengers enter through a hinged door in the front, with the steering wheel and instrument cluster swinging out with it. A driver and passenger can fit comfortably in the car.
Citroen 2CV
This particular 2CV participated in the Mekong Road Classic. The 2CV debuted in 1948 and was produced until 1990. Jesada maintains a large collection of these vehicles.
Vespa
Vespa, or "wasp" in Italian, was conceived to navigate Italy's post-war roads. They became popular as workhorse transports in Thailand because they can carry large loads due to their low centers of gravity.
Cessna O-1 'Bird Dog'
Thailand played host to a number of U.S. air bases during its war with Vietnam, and the Bird Dog played an integral role as a reconnaissance plane. After the war ended, the surplus airplanes were left behind. Some were adopted by the Royal Thai Air Force, but many ended up in the hands of collectors, such as this example.
Audi 100
The Audi 100 received it's name for its relatively low horsepower output of 100hp. It's one of the most commercially successful models in the company's history, although it was never imported to Thailand during the lifespan of the model.
Maserati Ghibli GT
Maserati didn't find its stride as a brand until the early 2000s, but that didn't stop the Ghibli GT from becoming somewhat of a '90s icon. With a twin-turbocharged 2.8 liter V6 it emits an unabashed Italian growl that's won over enough motoring enthusiasts to gain respect.
Admission is free to the museum, which is open 9am to 5 pm every day except Monday.
If you lack your own vintage vehicle or other conveyance, travel by rail from the Bangkok Railway Station at Hua Lamphong to Salaya Railway Station in , a trip that takes about 35 minutes and costs about 200 baht. From Salaya, take a taxi the museum for a fare of about 100 baht. Alternatively hop on bus No. 124 from Pinklao Road to downtown Salaya and a taxi the rest of the way.