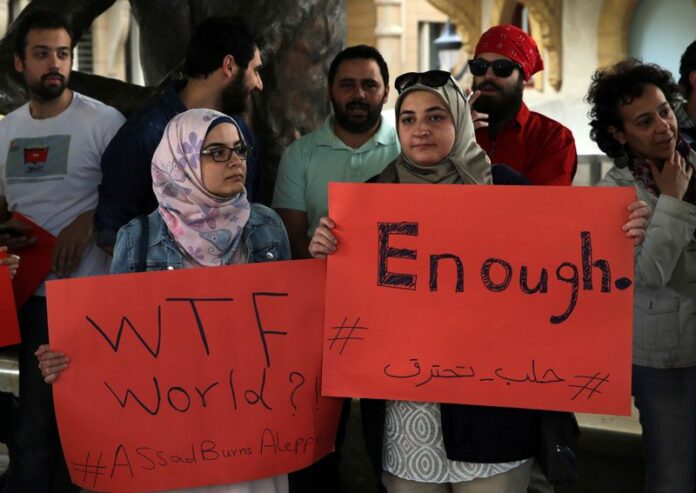 BEIRUT — The Syrian government launched new airstrikes Saturday on insurgent-held neighborhoods in Aleppo while rebels shelled government-held parts of the northern city, as a truce in other parts of the country appeared to be holding on its first day.
Contested Aleppo, Syria's largest city and former commercial center, has been the scene of intense shelling and air raids, killing nearly 250 civilians over the past nine days, according to the Britain-based Syrian Observatory for Human Rights.
The surge in fighting has caused the collapse of a two-month cease-fire brokered by the U.S. and Russia. It also has raised fears of an all-out government assault on Aleppo.
The International Committee of the Red Cross warned that the intensification of fighting threatens to cause a humanitarian disaster for millions of people. A statement issued late Friday said four medical facilities on both sides of the city were hit earlier that day, including a dialysis center and a cardiac hospital. ICRC appealed to all parties in the conflict "for an immediate halt in the attacks."
"There can be no justification for these appalling acts of violence deliberately targeting hospitals and clinics, which are strictly prohibited under international humanitarian law," said Marianne Gasser, head of the ICRC in Syria. "People keep dying in these attacks. There is no safe place anymore in Aleppo."
"For the sake of people in Aleppo, we call for all to stop this indiscriminate violence," Gasser said.
Friday's attacks on the medical centers came after government airstrikes damaged a main hospital supported by Doctors Without Borders late Wednesday, killing more than 50 people, according to the international aid group.
Syrian opposition activists said Saturday's airstrikes on Aleppo killed four people and wounded many others, mostly in the neighborhood of Bab al-Nairab.
The Observatory and the Local Coordination Committees, another activist-run group, reported more than 20 separate air raids on rebel-held parts of the city, where an estimated 250,000 people remain.
State media said rebel shelling of government-held parts of Aleppo killed one man and wounded others.
Aleppo-based activist Bahaa al-Halaby said warplanes and helicopter gunships are launching very "intense bombardments."
Another activist in the city, who spoke on condition of anonymity out of safety concerns, said schools have been ordered closed in rebel-held parts of Aleppo.
Aleppo was excluded from a brief truce declared by the Syrian army on Friday. The truce went into effect after midnight Saturday in the capital Damascus and its suburbs as well as the coastal province of Latakia. Activists said the truce appeared to be holding in both areas on Saturday.
Anas al-Abdeh, the head of the opposition Syrian National Coalition, told reporters in Turkey that Aleppo should not be excluded from the truce. He added that his group has asked U.S. officials to contact Russia in order to make the government to stop its operations in the northern city.
"The United States noticed that the regime is not abiding by the truce," al-Abdeh said, without elaborating.
U.S. Secretary of State John Kerry is leaving for Geneva on Sunday, where he plans to hold meetings the following day with the U.N. envoy to Syria to discuss efforts to halt the violence and increase deliveries of humanitarian aid to besieged communities. Kerry spoke to Russian Foreign Minister Sergey Lavrov on Friday.
Government supporters say Aleppo should not be part of the truce brokered by the U.S. and Russia because al-Qaida's branch in Syria, known as the Nusra Front, is active there and in nearby areas.
In neighboring Lebanon's capital, Beirut, more than 100 people marched in the city center to protest Syrian government attacks, mainly those on Aleppo, calling them "war crimes." Lebanon is split between supporters and opponents of the rebellion against Syrian President Bashar Assad.
In Damascus, ICRC spokesman Pawel Krzysiek said that despite the difficult situation in Aleppo, which hinders humanitarian operations in the city, aid deliveries elsewhere continued. Humanitarian convoys entered separate areas besieged by rebels and government forces, he said.
The convoys, a joint operation between the ICRC, the United Nations and the Syrian Arab Red Crescent, began delivering aid to Madaya and Zabadani — two mountain resorts near Damascus that have been besieged by government forces.
Krzysiek added that 20 other trucks entered the northwestern villages of Foua and Kfarya, which are being besieged by insurgents.
The ICRC delivers food parcels and wheat flour, medicines, bed nets, crutches and anti-lice shampoo to all locations, he said.
The U.N. Office for the Coordination of Humanitarian Affairs said on its Twitter account Saturday that the aid delivery in the four areas will be large enough to serve 61,000 people.
Story: Bassem Mroue / Associated Press