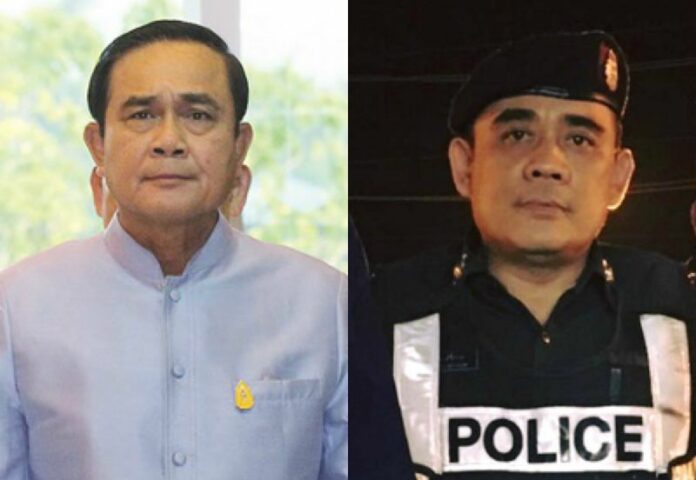 CHIANG MAI — Photos of a Chiang Mai cop have generated a buzz over the weekend with many netizens stating the obvious: The police officer is a deadringer for junta chairman Gen. Prayuth Chan-ocha.
Images of the police officer were shared online by Facebook user Montri Punyafu on Friday evening. "[This is] the Chiang Mai that you've never seen. #HandsomePolice Amazingly handsome, right? [He's] a Mae Rim police officer who recently came to the Lanna Architecture Expo."‪
By Sunday afternoon the Facebook post had been shared over 4,000 times and generated more than 12,000 'likes.'
The junta chief's "doppelganger" has been identified as Sen. Sgt. Maj. Tharathip Sri-ngam, the squad leader of Mae Rim Police Station in Chiang Mai province.
However, unlike the real General Prayuth who addresses the nation on a weekly televised show and has a history of threatening journalists, it seems that his lookalike is media shy.
Attempts to contact the 40-year-old officer and his friends were not answered.


Tharathip Sri-ngam, third from left, poses for a picture. Photo: Montri Punyafu / Facebook
"[Tharathip] doesn't want to talk to the media," Col. Adul Somnuek told Khaosod English on Sunday. "Many reporters called and came into the police station yesterday to reach [Tharathip], but he went out on duty."
When asked what he thinks about the resemblance of Tharathip and Prayuth, the chief of Mae Rim Police Station said "Personally, I think he does look like the prime minister, but a younger version. It'd be great if many people hear more of Mae Rim because of him."
According to users of Tripadvisor.com, the top attraction in Mae Rim is Elephant Poopoopaper Park, an eco-friendly, outdoor museum that explains how paper products are produced from elephant poop.
This is not the first time a look-alike of the junta leader has been discovered in Thailand. A physical education teacher in Nong Khai province who bears a striking resemblance to Prayuth became an internet sensation two years ago.

Related stories:
PM Prayuth's 'Doppelganger' Found In Nong Khai