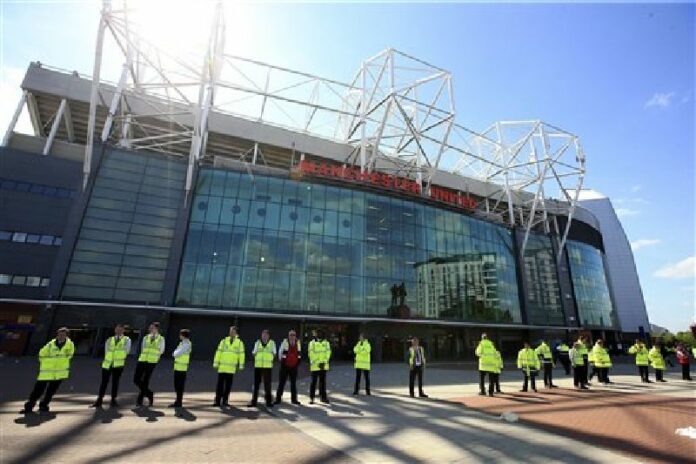 MANCHESTER, England —A security blunder at Manchester United prevented the Premier League completing the season on Sunday, with a fake bomb spotted inside Old Trafford only discovered to have been left from a terror exercise long after the game against Bournemouth was postponed.
Police conducted a controlled explosion and later said that the "incredibly lifelike explosive device" had not been cleared by security contractors from a toilet inside England's second biggest soccer stadium after the security exercise.
"It is outrageous this situation arose and a full inquiry is required to urgently find out how this happened, why it happened and who will be held accountable," said Tony Lloyd, the police and crime commissioner in Manchester.
The 380th and last game of an unpredictable season will now be played Tuesday night in Manchester. The last round of games was scheduled to be played simultaneously, with spots in European competition still at stake. But United now knows it cannot realistically qualify for the Champions League after crosstown rival Manchester City effectively secured fourth place on Sunday.
With United's priority now beating Crystal Palace in Saturday's FA Cup final, Bournemouth could have a better chance to climb up to 15th place with a win on Tuesday and collect more than USD$1.5 million (53 million baht) in extra prize money.
Two stands in United's 75,000-capacity stadium in northern England were initially evacuated before the scheduled 3 p.m. kickoff time. As military personnel arrived, the remaining fans and the players were ordered to leave the venue.
The security blunder is likely to add to the uneasiness about safety in sports stadiums in Europe following last year's Paris attacks when the Stade de France was one of the venues targeted by suicide bombers.
English soccer increased security after that incident and the United game is the first time a Premier League match has been postponed because of a bomb threat.
The unsettling incident for fans came at the end of a most unpredictable Premier League season.
Leicester was crowned champions earlier this month and completed the first title-winning season in the club's 132-year history with a 1-1 draw at manager Claudio Ranieri's former club, Chelsea.
Danny Drinkwater canceled out Cesc Fabregas' penalty to ensure that Leicester, which narrowly avoided relegation a year ago, ended this campaign with only three losses in the 38 games.
Leicester finished with 81 points — compared with 41 a year ago — 10 points above Arsenal, which overhauled north London rival Tottenham to claim second place.
Tottenham had been Leicester's closest challenger for the title but failed to win its last four games, culminating in a humiliating 5-1 loss against 10-man Newcastle, which had already been relegated. That allowed Arsenal to climb into second place after Olivier Giroud's hat trick in a 4-0 rout of last-place Aston Villa.
The results protected a proud record for Arsene Wenger: Arsenal has still finished above Tottenham every season since the Frenchman took charge in 1996.
By finishing third, Tottenham is guaranteed a second shot at the Champions League, six years after first playing Europe's elite competition. Harry Kane finished as the Premier League's top scorer with 25 goals.
Man City's priority was securing fourth place, but new manager Pep Guardiola will have to advance through the playoffs in August to reach the group stage. In Manuel Pellegrini's last league match in charge, City was held 1-1 by Swansea but a vastly superior goal difference means it realistically cannot be caught by United.
Southampton completed the campaign in style, beating FA Cup finalist Crystal Palace 4-1 to provisionally move above United into fifth place on the brink of Europa League qualification. Southampton will stay there if United loses to Bournemouth on Tuesday in the rearranged fixture that curtails Louis van Gaal's preparations for Saturday's cup final.
Pellegrini isn't the only departure this month from the Premier League.
Everton responded to the firing of manager Roberto Martinez by beating relegated Norwich 3-0, with American goalkeeper Tim Howard keeping a clean sheet in his 414th and last game after a decade with the Merseyside club.
Quique Sanchez Flores signed off from Watford with a 2-2 draw against Sunderland, the manager leaving despite delivering the club's highest top-flight placing in 29 years by finishing 13th.
Although Liverpool drew 1-1 at West Bromwich Albion to finish eighth, the team has a Europa League final against Sevilla on Wednesday to prepare for at the end of Juergen Klopp's first season in charge.
West Ham finished one place higher in seventh despite losing 2-1 at Stoke and now focuses on its move to the Olympic Stadium ready for the new campaign in August.
Story: Rob Harris / Associated Press
To reach us about this article or another matter, please contact us by e-mail at: [email protected].