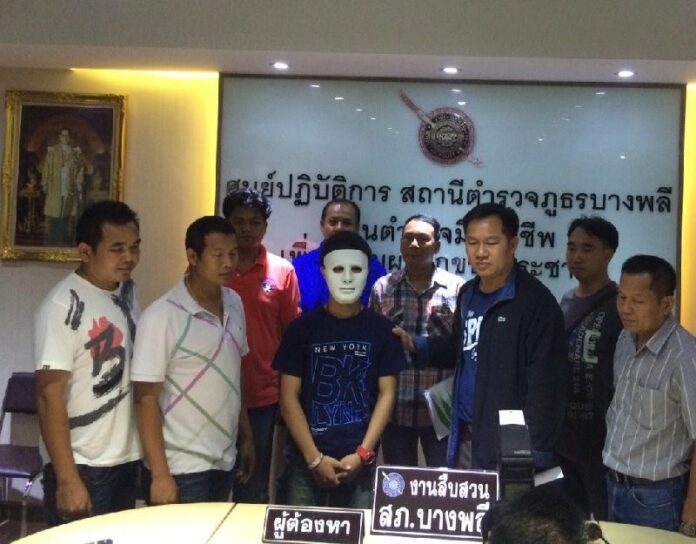 SAMUT PRAKAN — One of two men shot Friday at a KFC restaurant in Bangkok's southeastern suburbs died Saturday, prompting police to press a murder charge against the gunmen, one of whom was captured.
Worasakdi Thong-ngoen, 27, died in hospital Saturday, one day after he was shot along with a friend while eating an early morning meal at a Samut Prakan KFC at about 4am. His associate, 18-year-old Teerachet Longthong, was shot once in the arm.
---
Two Men Injured in KFC Shooting (Video)
---
Worasakdi was shot in the chest, back and neck, Col. Pallop Aeromla, commander of Bang Phli Police Station, said Saturday. He also announced the arrest of one of the suspected shooters, 19-year-old Ratthathamanoon Garinsoongnoen and said police are seeking three more suspected accomplices. Police believe the attack stemmed from gang rivalry.
"We have arrested one, and we will try to arrest the rest," Pallop said Monday morning.
Chilling footage of two masked men bursting into the restaurant and shooting the pair was captured by a security camera and later posted online.
According to Pallop, one of the three suspects on the run is the other shooter, while two others stayed with getaway motorcycles for both shooters to escape.
All four suspects are now charged with premeditated murder and firearm offenses.
Apart from Ratthathamanoon, the other three suspects are Rattawit Papao, Passakorn Teerakachornwuthhi and Theepakorn Kolladee.