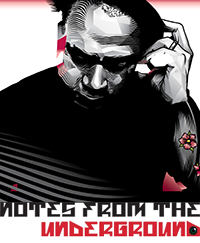 Since the '90s, British techno pioneer Mark Broom has dropped one groundbreaking track after another on labels such as Warp, R&S and even James Lavelle's legendary Mo' Wax imprint.
And decades on, the producer continues to shine. Most recently he flexed his production muscles again on "Fire EP," a release put out on his own label Beardman.
That's why Thai techno pioneer Rutha "Mai" Rungsang, aka Nolens.Volens, has invited Broom to play Bangkok next week.
"What makes Mark Broom stand out for me, apart from his tight, timeless and raw production, are his DJ sets. He blends '90s techno with today's music and also throws in old school happy hardcore anthems when he sees fit," Mai says.
When it comes to finding techno's edgier and darker side, Bangkok only sees a handful of events. There's Koishi Shimizu's Primeval, Krit Morton's Mella, DJ King Kong's Off The Grid and some one-offs ditching the club-friendly minimal techno or tech house in favor of more avant-garde sounds.
Broom will play Cosm, an event perhaps less well known that Mai launched in 2015 with two partners before going solo with it. Cosm has imported a who's who of UK techno flag-bearers such as Ben Sims, Kirk Degiorgio and Ben Long, aka Space DJz.
It might have been studying in the American midwest in the '90s that gave Mai his purist attitude toward techno. After all it was Detroit's industrial wasteland that gave birth to the scene.
Inspired by the likes of Detroit's finest, such as Robert Hood and Jeff Mills, Mai returned to Thailand to produce his own material. Over time, he remixed the likes of DJ Suharit, Groove Riders and Modern Dog.
"I try to stay as far as I can from the minimal sound, I prefer the edgier sound of techno," Mai said, adding that "promoters here have been using the word 'techno,' where in reality, none have even played proper techno."
But as in every scene, uncompromising artistic integrity can keep things contained to the underground.
Guillaume Popineau, aka DJ Will of Bangkok's famed Kontraband crew, says promoters into harder, edgier sounds like Mai will always remain niche. But he's hoping for a techno renaissance nonetheless.
"I would say it might be a general trend that after suffering from dull, uninspired, run-of-the-mill techno, we might be going back to a darker and faster sound like in the '90s," Will said. "Electronic music has always been innovating yet revisiting its own past so we might be going back to that."