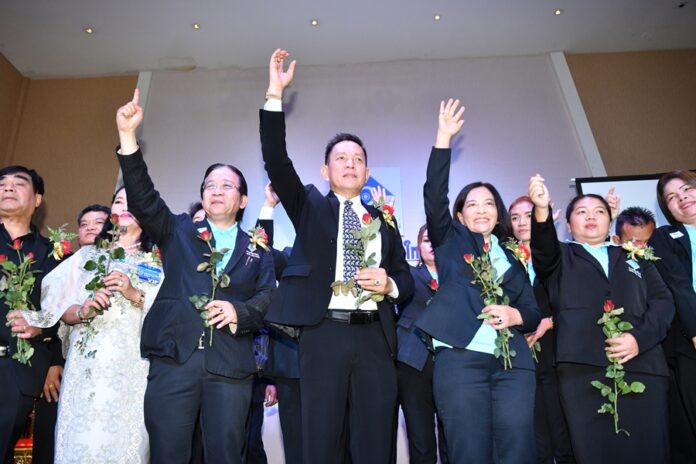 BANGKOK — A former conservative protest leader turned politician on Monday urged the public to forget the past and vote for his newly formed party, which pledged to support junta chairman Prayuth Chan-ocha if he bids for another term in office.
Despite his background and political preference, party leader Rachen Trakulviang said he's no proxy for either his former protest movement or the regime. Rachen said his Alternative Party is here to serve the people and offer Thailand a fresh beginning.
"I want everyone to forget our past and take up a new beginning. Everyone has a good past and a bad past," Rachen, who led street protests against the elected government back in 2013, said in an interview. "Our ideology is to serve the nation, religions, monarchy and the people."
The 58-year-old Nonthaburi native was a core activist of the People's Committee for Absolute Democracy With the King as Head of State, or PDRC. Their protests against the Yingluck Shinawatra administration – in which more than 20 died – resulted in a military takeover in May 2014.
Now he's a career politician. Rachen is one of more than 50 new parties being formed in recent weeks to compete in the next election, slated to take place early next year.
While recent media attention was fixed on the savvy new-gen New Future Party, Rachen's group caught interest last week when he announced that he had won the junta's approval to hold a party executive meeting on Saturday – the first to do so after the 2014 coup.
Unsanctioned political gatherings are punishable by jail term, and some critics of the junta suspected favoritism was at work. But Rachen rejected the allegation, saying he only secured the permission because he filed for a request soon after the junta said it would allow newly established parties to meet.
"People kept asking why I was the first party to meet. Many attacked me, calling me the junta's [proxy]," Rachen said. "I filed a request on Jan. 8. After the junta relaxed the rule, I filed right away."
The rule relaxation does not extend to older, bigger parties such as the Democrats and Pheu Thai.
At Saturday's meeting, held at the Riverside Hotel on the western bank of Bangkok, the party members named Rachen as their leader.
Rachen also told reporters at the conference he's willing to serve as prime minister himself if his party wins a majority vote – he aims for a tenth of the parliament seats –  but added that he would also nominate junta chairman Prayuth for the top job if the majority of MPs do so.
"I have told the media many times: Prayuth is a good person," Rachen said Monday. "But I would only support him. I won't support any of his minions."
The new constitution require political parties running in the election to submit the names of three candidates they would vote for prime minister. For the first time in decades, potential candidates do not have to be elected MPs.
Prayuth hasn't ruled out standing for another term in office, this time as an elected prime minister.
Rachen said his party would gladly nominate Prayuth if the retired general gives the word.
"The media kept asking me whether I will [nominate] Prayuth. Let me put this question: is Gen. Prayuth himself ready to serve a second term as prime minister?" Rachen said. "Is he ready? Will he sign his name if we nominate him?"