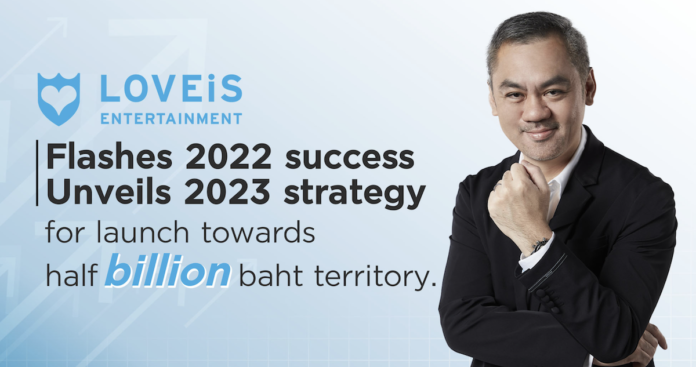 LOVEiS ENTERTAINMENT showcases success, raking in over 300 million in 2022.
For 2023, 'JEEP' Thepard Kawin-anan, CEO announces appointing 'Ying' Pireeya Teerawattanasawat, as MD to co-pilot management of LOVEiS ENTERTAINMENT.
Targeting growth for 2023 launch towards 500 million baht.
Hoisting strategies to expand LOVEiS ENTERTAINMENT's business range away from being just a record label to being a 'DigiTainment' enterprise, focusing on KOL & Influencer Management, encompassing all segments of entertainment to reach all of the new generation's preferences and lifestyles.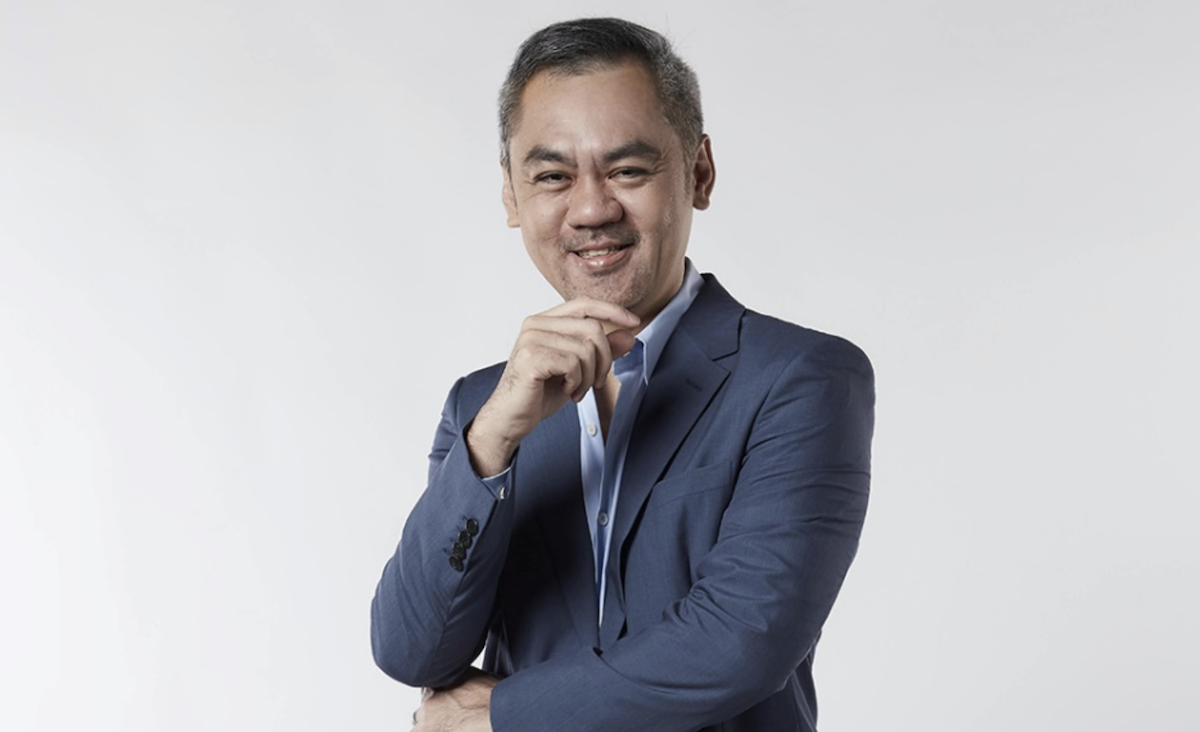 'JEEP' Thepard Kawin-anan, CEO, LOVEiS ENTERTAINMENT, revealed that, "During the past 3 years, running a music label business hasn't been easy. Because the main income of the record label comes from the artist's exhibitions, events, concerts, and such. But with the situation, we couldn't do anything. And we had to adjust on a day by day basis so that the artists maintained their presence and not disappear from the fans.
And at the same time, the changes with media, including consumer behavior had a lot of impact as well. And of course, the return for businesses post-COVID, nothing will be as it was, and for sure it won't be easy. But for businesses in the business of happiness and entertainment, there will be a rebound that's better than usual. Because people have been craving for fun and for entertainment.
For 2022, I must give thanks to the team of LOVEiS ENTERTAINMENT. To all that worked so hard, adjusting to get the best out of every situation. And thank you to all the artists who went 110% for every opportunity that came in. Thank you to the music fans for their warm support and understanding, and we did achieve our set goals in the Music Marketing & Artist Management business, and made a total revenue of over 300 million baht."
In addition to all that's happened, there's a big move being made in LOVEiS ENTERTAINMENT. Head chief, 'JEEP' Thepard Kawin-anan, is handing the position of chief assistant to 'Ying' Pireeya Teerawattanasawat, as the MD of LOVEiS ENTERTAINMENT, to support in reining in the label towards the direction that 'JEEP' Thepard maps out.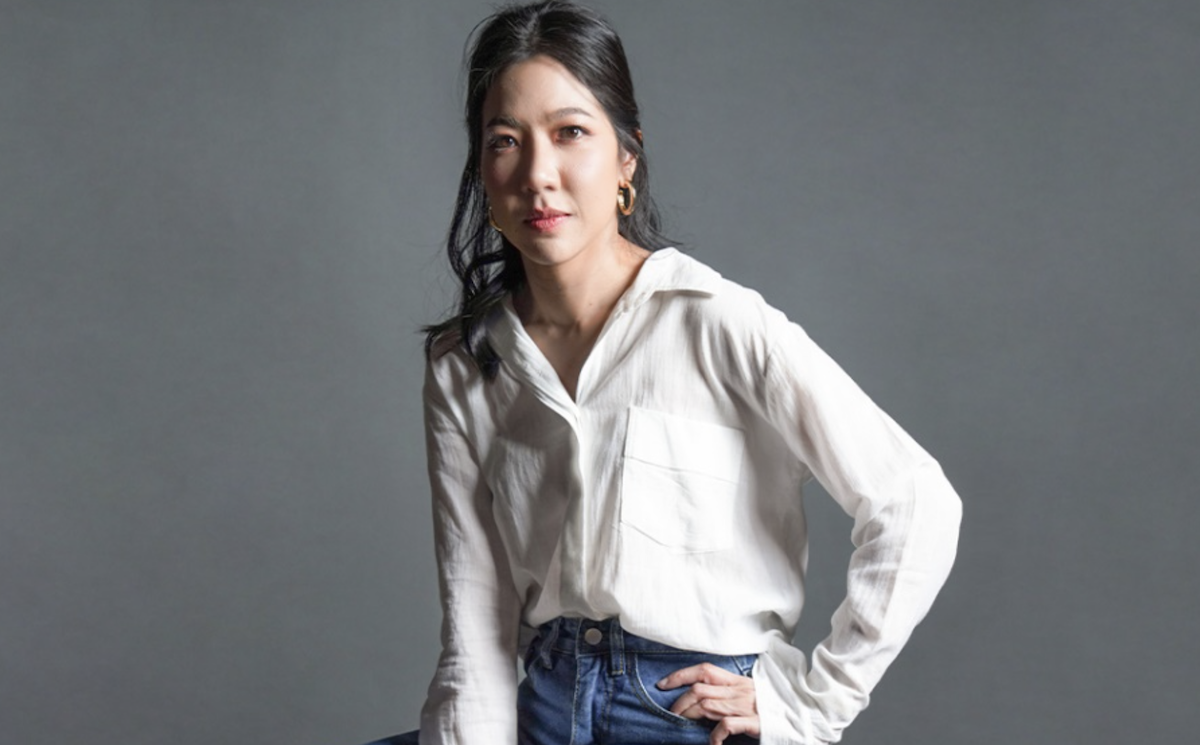 Pireeya Teerawattanasawat, MD, LOVEiS ENTERTAINMENT has disclosed that, "LOVEiS ENTERTAINMENT has been under the guidannce and management of P' JEEP, Khun Thepard Kawin-anan for more than 4 years and this year, stepping into the 5th year for the company. This 2023, our label is poised towards a clear stance and goal. We're ready to serve up concerts, activities, events, festivals, and we're fully loaded to jump in and immerse with the digital world. And that's just part of it!! We're also ready to launch new strategies under our new Unit Business. We are no longer just a record label, LOVEiS ENTERTAINMENT equals DigiTainment. We're moving forward full speed towards the goal of 500 million baht. That, and being part of the Core Value that strengthens the Thai entertainment industry.
Through the company's main missions, which are (1) Search for, and develop new artists and existing artists so they become quality front persons for music, performances, modeling, photo shoots, MCs, and Creator & Influencer; (2) In our Activity and Event group, we're aiming to create new events based on clearly defined target groups. And at the same time, cover all the segments and create annual events in new dimensions for the fan club of the company and artists. (3) Introducing a new business unit in the Influencer Management section to complete us as a One-stop entertainment function, from the planning process, taking care of campaigns, all the way to performance monitoring".
The roster of new projects for 2023 guarantees music fans will not be disappointed:
– The year kicks off with signing in several famous artists, including; Atom Chanakan, the owner of catchy hit songs that anyone hearing them can definitely sing along to; Mobile Pimrapat and Cake Nawaporn, former members of BNK48; Puimek Napasorn, an actress and singer brimming with talent; Chacha Arita, with numerous achievements in variety, vocalist, acting, MCing, as well as being a content creator on many popular platforms. In addition to working together in terms of being fellow music artists, there will be collaborations in various entertainment contents, and drama series as well.
– Of course, for 'NONT' TANONT, another magnet from the label, this year there will be events, NONT TANONT BIRTHDAY SPORT PARTY scheduled March 5, 2023, and NONT EP.02 CONCERT.
– Followed by big concerts from the label's most famous artists, such as WANYAi, LGBTQIA+ CONCERT, and many more that the label would like to keep as surprises.
– 'Teen Event' hopes to penetrate student groups such as "High School, the POP, the TOP" going to campuses with the freshest line-up favorites among teens.
– Planting the flag, claiming a new landmark in the Ari district for the New Year's End festival, COUNTDOWN @AREE, to send off the year 2023 together.
And, it is not just LOVEiS ENTERTAINMENT, there are also 7 other sub-labels, marr, PROM+, HOLYFOX, LIT ENTERTAINMENT, LABo, kiddorecords, JUICEY, a total of 8 camps together that 'JEEP' Thepard might see as important leaders in driving the Thai music and entertainment industry.