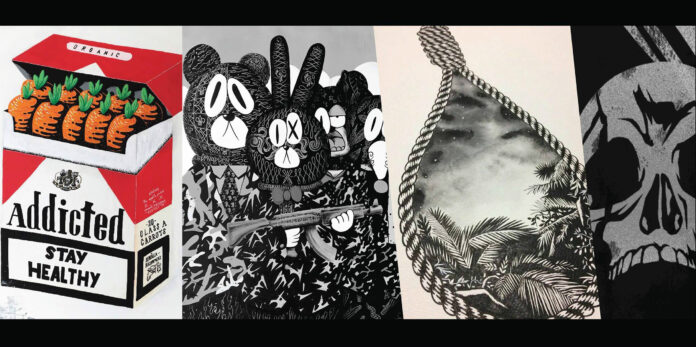 BANGKOK — Be it stress or fatigue on Blue Monday or any of the usual working days, seven artists offer relief through their blood, sweat and beers.
"Either you're broke or stressed. Let's drink," isn't just a catchy advertising tagline but a common refrain in heavy-drinking Thailand, where alcohol is a default to both celebration and suffering, or just making the day pass faster.
Seven visual artists will offer their takes on booze and other short-lived forms of happiness along with visualizations of their alternatives in about 20 works to be displayed as part of "Blood, Sweat & Beers."
"Some people might not wake up to the work they like and drinking is their only way out," said a drawing artist Pongpetch Keaw-On AKA Petch Pmp. "Through art, we tell the similar story and try to offer a solution. But the alternatives suggested might not be applicable to everyone."
That's possibly understatement, as some of darker alternatives seem to suggest greater miseries or even more permanent forms of release such as a noose.
Pongpetch, 32, chose to present the theme via eight melancholic black-and-white pieces and a large patchwork quilt.
"If you're burdened with work and life stress, taking a look at the works may help you get through it or see that there's many people who suffer more than you," Pongpetch said.
Blood Sweat & Beers opens at 8pm on Friday and runs through Aug. 31, at Kalwit Studio & Gallery on Wireless Road. It's a moto ride or 15-minute walk from BTS Ploen Chit.