BANGKOK — This wet weekend check out Bangkok's new independent mini-cinema.
Cinephiles' long wait for a new indie home for indie films ended this week with the opening of Bangkok Screening Room, a cinema paradiso for art film lovers that officially opened downtown Wednesday in a space that is cozy – if tight.
At a Tuesday evening preview the small, privately owned theater in the Silom area showed it was more than ready to screen quality films such as this week's roster of a North Korean comedy, a gonzo music doc on old Japanese punkers, a Thai art film and some classics.
After stumbling a bit to find the place – its sign wasn't posted yet – I found it located above a 7-Eleven. Inside, the reception area was smaller than it appeared in the conceptual renderings. Still, it's stylishly decorated in warm tones with marble tables and comfortable seating. To contrast the swank decor, the concrete ceiling was left raw for that unfinished vibe.
Above the mini snack bar is a marquee recalling the golden age of cinema. Food varies from finger foods to Thai-style spaghetti. Light snacks are 60 baht – 150 baht. There is of course popcorn. It comes in flavors such as truffle, tom yum and larb and can be taken inside the cinema. I couldn't really tell the difference between the tom yum and larb; they were both sour.
That didn't really matter because my main interest was what was inside the cinema.

Read: Finally, An Alternative Cinema To Open In Bangkok
The 50-seat cinema is filled with custom-built cushy chairs arranged in seven rows. I sat in the back and soon felt I would have been happier in a middle row. The chairs are very comfy and larger than the seats found in many corporate theaters. So, you don't have to worry about sitting uncomfortably or shrinking yourself to fit throughout the film.
Tuesday's sneak peak was filled with trailers of their upcoming selections. Its contemporary film series kicks off with 2012 North Korean comedy "Comrade Kim Goes Flying," 2010 Palme d'Or winner "Uncle Boonmee Who Can Recall His Past Lives" and two recent music documentaries: "Mad Tiger" and "Hot Sugar's Cold World."
The selected classics are also interesting: The original 1954 Japanese monster movie "Godzilla," 1953 comedy "How to Marry a Millionaire" starring Marilyn Monroe, 1949 British thriller "The Third Man," and Alfred Hitchcock's 1958 mystery "Vertigo."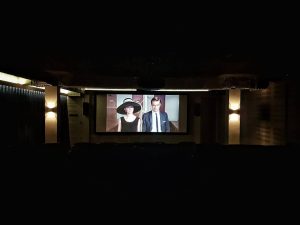 Sound and visual quality were good, but that was expected given the 4K digital projector and professional surround sound brought to bear. The screen size can be changed to accommodate films with different aspect ratios.
Props to the owners for providing adequate accessibility, with facilities for disabled people including front row seats which be swapped out to make room for a wheelchair. The building is equipped with a large elevator and ramp.
It's a bit messy as building renovations continue. One of two toilets was out of order, so you'd best manage your bladder well until it's fixed. When I headed down at about 8pm, the stair lights were very dim, and I was afraid of falling.
As a huge Apichatpong Weerasethakul fangirl, I definitely won't miss another chance to see "Uncle Boonmee" in a theater. Other selections are also tempting for a film fanatic like myself, but I will have to choose carefully. Tickets are 300 baht, the cost of three films at Lido or two at chain cinemas on Wednesday.
But if you want to watch a good movie in a decent quality theatre, there's little other choice. The Bangkok Screening Room owners said half of the box office will go to the films' directors. So, I'll consider myself a patron of the arts and give the filmmakers what they deserve, compared to the raw deals they get from the big theaters.
Read: Lack of Competition Stifles Thai Film Industry
Tickets are 300 baht. A 1,100 baht annual membership includes three tickets, discounts on food and tickets, and other "exclusive privileges." Thai subtitles are shown for non-Thai language films.
Bangkok Screening Room is open every day except Monday from the afternoon onward. Check the website for exact hours. It's located on the second floor above a 7-Eleven on Soi Saladaeng 1. It's walkable from MRT Lumphini's exit No. 2 or BTS Sala Daeng's exit No. 4. Cars can be parked at the U Chu Liang or Srifueang Fung buildings nearby.