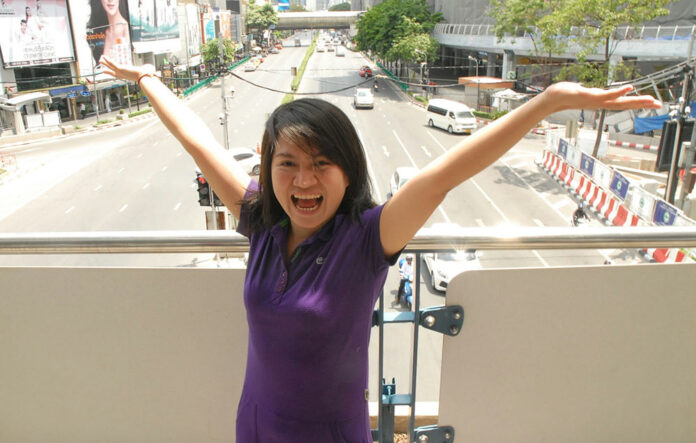 Ed. note: This is part two in an occasional series that examines artists who have been convicted of crimes relating to expression. Read part one here.
BANGKOK — In hindsight, Pronthip "Kolf" Mankong says the play for which she spent two years behind bars wasn't particularly good. In terms of artistic expression, she's not proud of "The Wolf Bride," the 2013 student production for which she was convicted of insulting the Royal Family.
Perhaps surprising then is her belief that the stir it caused, including the conviction of with a co-performer, validated the power of the performance, while she fears it will color judgment of her future work both positively and negatively.
"If the dramatic arts can have that much impact, then I think we're on the right track, as I always believed that drama, art, literature and other art forms can really change the world," the 28-year-old dramatist said. "Because if the play had no impact at all, then we wouldn't have been sentenced like this."
Read: Art on Trial: The Mor Lam Singer
On a recent Tuesday, I met Kolf to talk about the crime for which she was convicted and punished affected her as an artist. We had not met before, and what struck my first impression were the smiles that never faded from her face along with an optimism she said helped her through hard times.
Just days after her Aug. 27 release, she said the arts can be equally potent healing salve or weapon.
"Art is more powerful than a simple paintbrush," she said. "It's a hammer that can be used to smash people to death."
She also told me her preferred English spelling of her name, which usually appears in reports as Pornthip "Golf" Munkong.
Prison exposed her to a level of human complexity, she said, that ranged from comedy and drama to adultery and mystery. During her time in jail, Kolf listened to other convicts and guards tell their stories, which inspired her to write them into fables.
She jotted everything down from her perspective and intends to compile them as a novel or a script.
"I really have to thank the Internal Security Operations Command and soldiers for sending me to prison, so that I could gather material and crystallize myself," she said.
But, she said, two years was enough.
"I can still shrug my shoulders as my sentence was two years," Kolf said. "If the sentence would have been more than this, I have no idea if I could have still coped with it. It's like my memory storage is filled with information, and it's now time to empty it."
In 2010, after Redshirt street protests in Bangkok were forcibly dispersed by the military, Kolf started a small theatre company to discuss social issues through the dramatic arts. The company later disbanded but reunited in 2013 to stage a one-off play dramatizing the life of a fictional king and his adviser.
"The Wolf Bride," which she partially wrote and played a small role in, was broadcast live on television and shared on social media. Certain scenes, some of which were improvised, infuriated people who saw affront to the monarchy. Some compared the show to an infamous student play from 1976 which – wrongly or rightly – fed the bloodlust of those who murdered university students in October of that year.
Complaints were made, but for awhile, not much happened.
"Our play sparked something, but fortunately it didn't lead to calamity, as social media then was already boiling with many political issues," Kolf said.
She was not arrested until nearly a year later, after the military seized power and went looking for royal defamation cases to prosecute. She and co-performer Patiwat "Bank" Saraiyam were convicted and sent to prison. After two years in jail, they were both granted early release last month.
Adjusting to the outside world, Kolf said she worries those who have lionized her lose perspective on her work. She wants it to be judged for what it is – not who she is.
"I'm not a heroine, so please don't expect anything from me," she said. "It's better to see my work and say straight whether it's bad or not. Don't like me because I was once a convict and avoid telling me the truth."
Related stories:
'Wolf Bride' and 'Da Torpedo' Freed From Prison

Wait Not Over For Loved Ones of Jailed 'Wolf Bride' Actress

Exasperating Wait For Release of Loved Ones From Prison

Theater Activists Jailed Over Satirical Play About Monarchy