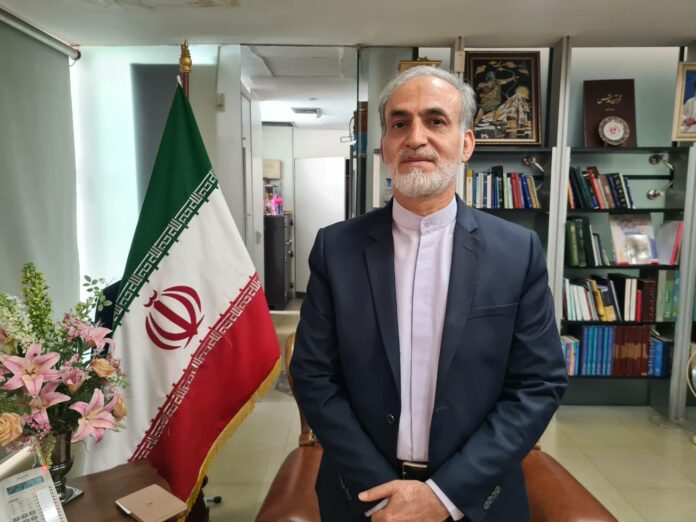 BANGKOK — Iranian Ambassador to Thailand Seyed Reza Nobakhti has been posted in Bangkok for over two years now and he hopes his remaining time will see further deepening of ties between the two countries, particularly on trade and tourism.
Nobakhti said three big Iranian companies are eyeing to sign a contract to purchase a big lot of Thai jasmine rice on an annual basis – around 500,000 tones per year. He hopes to cement the deal in the not too distant future.
"They have had negotiations with different partners to import Thai rice to Iran," Nobakhti told Khaosod English at his office late last month, adding that Iranian consumers do not like ordinary rice but prefer fragrant jasmine rice.
"[The companies] have paid a visit to Thailand. I think something is happening."
The ambassador said the amount could be paid by either cash or through a barter system with the Thai government.
In another area, Nobakhti is also looking for the opportunity for Iranian cars to be exported to Thailand.
"We are producers and exporters of cars. Our market is not only 85 million people," he said, adding that Thai businessmen will be invited to Iran to explore the possibilities of having a joint venture in Iran's auto industry.
Then there is tourism. Prior to COVID-19 pandemic, around 100,000 Iranians visited Thailand each year. However, Nobakhti said only around 3,000 Thais visited Iran per annum before the pandemic. Nobakhti sounded excited talking about a Thai travel company arranging a group tour for 15 Thais to Iran as a positive sign of post-COVID-19 resumption of Thai tourists to Iran.
"Our biggest travel company in Iran will have an exhibition here, maybe in March."
Nobhakti wants Thais to consider Iran as a year-round tourist destination with four seasons to enjoy and not just about skiing or seeing fabulous architectural heritage such as those found in Isfahan or Shiraz.
"People in Iran are hospitable. Everything in Iran is cheap. It's a cheap destination for people… Iran is a safe destination for tourists."
The Iranian Ambassador is well aware that the past many months saw numerous reports about the deadly protests in his country after a young woman, Mahsa Amini, 22, who died in police custody on Sept. 16, 2022. She was arrested by moral police for refusing to wear Islamic headscarf.
Her parents denied Amini had any health issue, but Ambassador Nobakhti insisted 90 percent of what Thais read and heard from the international media is propaganda.
"Ninety percent are propaganda and TV programs were fake [news]," the Iranian Ambassador told Khaosod English. "She had some tumors. The lady was sick," he said, adding that Amini "fell down and hit her head [to the ground]."
As for the number of fatalities during subsequent protests, the Iranian Ambassador put it at around two hundreds. His account also differs from the international media such as Reuters, which reported around three hundred deaths.
"We're talking about two hundred deaths – 84 were police and 120 [civilians] but they were not killed by police because police were unarmed. [Protesters] use weapons against other [protesters] to provoke. These people have been killed by themselves."
Nobakhit insists such a dress code will continue despite waves of protests over the past many months.
"In Iran we have a dress code – like France there's a dress code. If you wear a headscarf [in France] you cannot do official work."
On the nuclear issue, the Iranian ambassador has this to say: "We do not need a nuclear bomb. We're in a position that if we want [it] we can but we do not need it."
Nobakhti said Iran needs nuclear plants to generate electricity, just like some other Western countries.
The ambassador is well aware that Thailand and Saudi Arabia have last year restored their diplomatic ties after three decades and said that is not a problem for Iran.
"We're not their enemy. We're ready to reestablish diplomatic relations with them," he said, adding that five rounds of negotiations have taken place between Iran and Saudi Arabia.
As the interview was concluding, Nobhakhti said Thais can learn more about what is really happening in Iran if they visit Iran and see the country firsthand. They will realize it is different from the "propaganda against Iran" fed by Western media, he said.