Top: Yuval Schwok stands astride his pride and joy: an old rice barge he's refitting into a floating events space. Photo: Thapphawut Parinyapariwat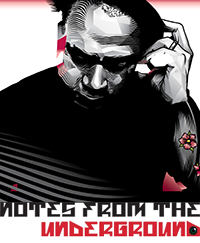 On a hot Monday afternoon inside a giant warehouse in the northern outskirts of Bangkok, workers were hammering metal beams onto the top deck of what looked like a steampunk Noah's Arc.
I'd journeyed out to the outskirts with a photographer to see for myself the improbable sight. Engines were being readied for installation on what had been a hulking rice barge plying the mighty Chao Phraya River and was now to begin a new life. Think of those tacky floating restaurants cruising the river, albeit a hell of a lot bigger. There I met the man with the plan, Yuval Schwok. It's in this massive mofo Yuval sees a performance and event space on three levels, with the whole vessel serving as a giant floating stage. The 32 meter ship, stem to stern, will be able to fit up to 350 people when it's finished.
That vision is moving toward completion, and he expects the boat to be ready by the end of the year.
He calls it: Bangkok Island.
"Islands have a strange appeal to people as they are a mix of seclusion and freedom, both of which are necessary to create good art. Beyond that, islands in Thailand have a feeling of fun attached to them and that's what we are trying to create," the Frenchman says.
His ambition is for the boat to fill the sails of Bangkok's arts and music scene, which has been facing headwinds of late.
Standing on the top deck supervising the 10-man construction crew, Yuval was backingpacking through the region when he arrived in Thailand over eight years ago. He fell in love with the country and opened his hostel-events space The Overstay in 2009.
The venue became popular among travelers and even earned a rep with clubbers as a popular after-hours spot. Things took a turn when five agencies showed up (sans search warrant) in full force to raid the place and roust a few travelers from their beds in the name of what Yuval said were "a few joints."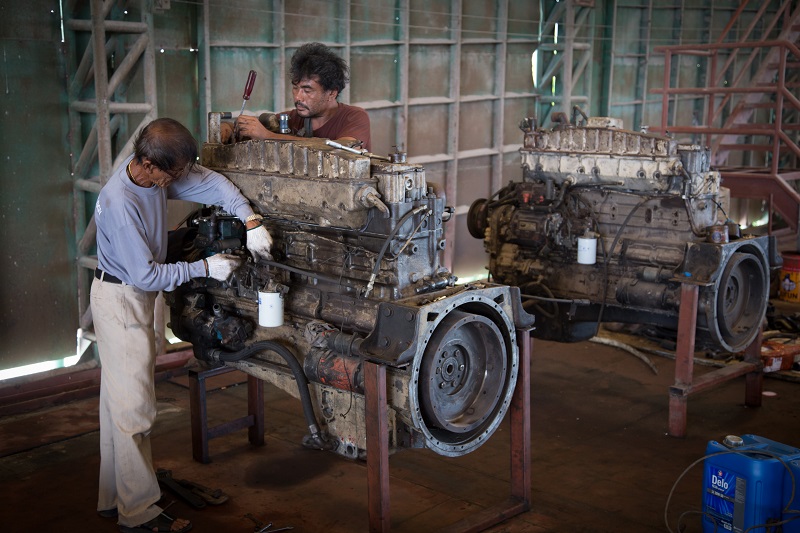 "Thai jail was certainly a shock, losing my dreads in there was not pleasant, but considering the brute force they used with Article 44, over 100 cops, dogs, swat teams … I was released only a week after my arrest. … I'm not trying to be a hero, I just want to mediate with the authorities to let us have the fun we like," Yuval said.
Yuval wasn't discouraged and is now getting close to making Bangkok Island a reality. It was from a conversation with one of the more eccentric Overstay guests that inspired Yuval.
"I had been talking to a crazy Pole at my hostel, who almost drowned because he built a raft out of plastic bottles and tried to sail around with it. The next day I was on the Pinklao Bridge and still laughing at his crazy story but then, as I saw one of those sand barges, something clicked," he said.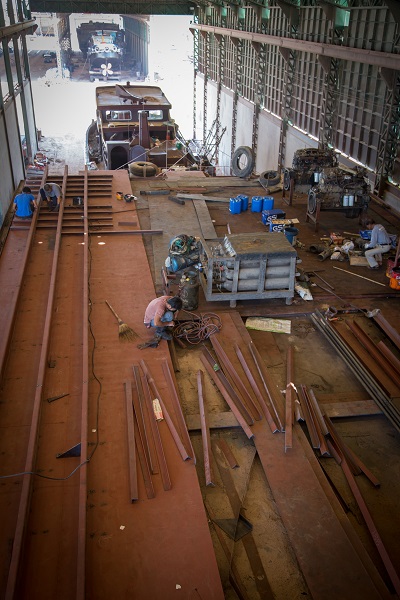 How to go about finding a river barge? Yuval did what anybody would do. He searched Google Maps for docks where such boats docked. Once found, he went there and asked boat owners – he's fluent in Thai – if any were for sale. One was, so he bought it. He's cagey about saying what he paid, but suffice it to say that the cost of the boat – and pricier renovation work – was in the seven figures. He hired Thai architect and designer Oopatham Ratanasupa, famed for his Bangkoker brand T-shirts, for the refit.
For anyone concerned about its seaworthiness, Yuval said the boat was certified to SOLAS (Safety of Life at Sea) standards and took nine months to win a thumbs-up from the Thai  Maritime Department.
"Getting this project approved by the maritime department was a nine month ordeal," he said. "I can name half the members of the maritime department by now."
The project is three years deep and, according to Yuval. He hopes to find a permanent dock and make the boat available to anyone interested in organizing events on it. Keep track of progress at Bangkok Island on Facebook.