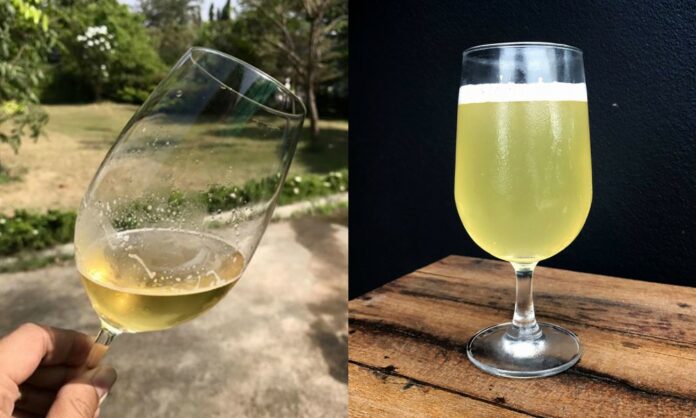 BANGKOK — Last night the first batch of legal Nonthaburi Mead was released on the tongues of Bangkok hopheads. It's marketed as the first legal mead, something simply known as "honey wine" in the kingdom.
Behind the mead made from 100 percent local longan honey in Chiang Mai are the two brothers of the Nonthaburi Brewing Company: Nattachai Ungsriwong and Teerapat Ungsriwong.
They cooked up their Non Mead at a small brewery across the river, and while the law doesn't allow small breweries to operate legally, Nattachai said his most recent product was granted a license as undistilled "fermented alcohol."
They say its sweet taste evokes lemon honey soda. A batch of more than 70 bottles sold out last night at the Turtle Bar in Nonthaburi's Pak Kret. Nearly 50 more will be available Thursday night at Dok Kaew House Bar in Bangkok, Nattachai said. He expects to sell more bottles in Bangkok, Chiang Mai and provinces in Isaan.
According to the Nonthaburi-based brewmaster, the price of the 5 percent alcohol mead hasn't been settled on since new alcohol taxes rates come into effect Saturday.
Related stories:
Thai Craft Beer's New Strategy: Keep Brewing Until Law Catches Up