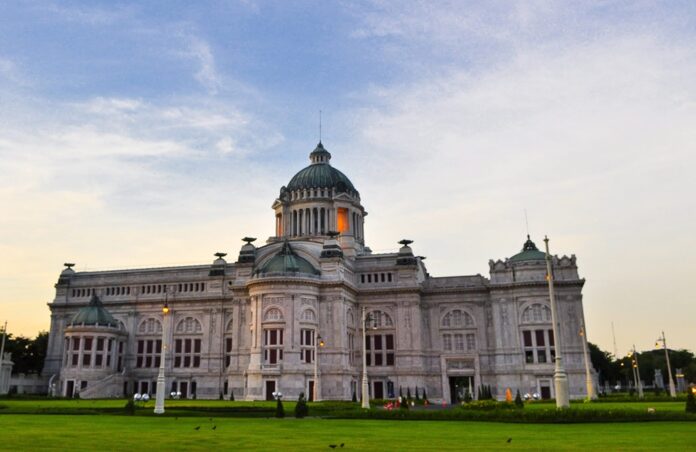 BANGKOK — A century-old palace frequented by tourists will close its doors to visitors October onward, an official said Wednesday.
The Ananta Samakhom Throne Hall, where some of Thailand's national treasures are displayed, will close down indefinitely for repairs, according to an official with the Queen Sirikit Institute, which oversees the exhibition space.
"There is no date when the throne hall will reopen," Nisa Chomphu said by phone, adding that the current exhibition will be moved to Ayutthaya province in February.
Inspired by his trip to Europe, King Rama V ordered the throne hall constructed in a Western fashion. It was designed by an Italian architect and marble had to be transported from Italy for the site. The monarch, who was widely credited for modernizing Thailand, did not live to see his project. Construction was completed in 1915, six years after he died.
It went through a turbulent history: from the seat of power of successive absolute monarchs to the parliament in the early years of Thai democracy. Now the throne hall hosts historical exhibitions for the general public and is only closed for major royal ceremonies.
Nisa said tourists can visit the site until Sept. 30. Tickets are sold from 9:45am to 3:30pm each day.
Visitors are required to dress modestly – sleeveless shirts and shorts are prohibited. Women must also wear long skirts.