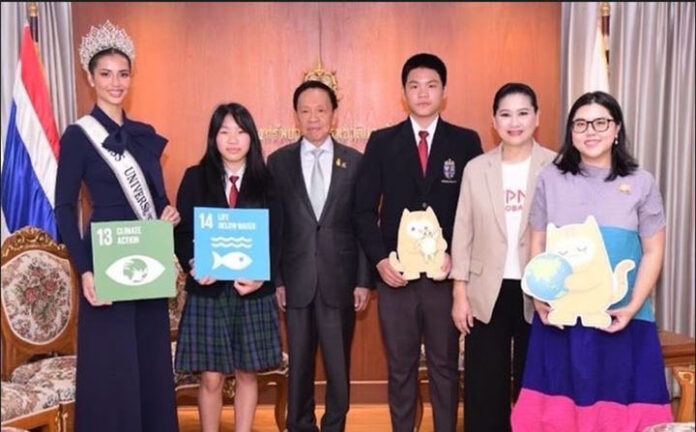 The initiative of the 'Zero Starving Sea Turtles' project persuaded people to take it with two siblings whose hearts are full of desire to save this endangered species.
The key objective of the project is to increase the survival rate of sea turtles and restore the balance of the undersea food web.
In an era when the world is fully equipped with technological advancements in most aspects of daily life, people are becoming increasingly distant and, at times, oblivious to nature, forests, wild animals, and sea creatures.
Furthermore, rapid economic development is causing harm and posing threats to animal lives, resulting in declining populations and the extinction of some species. Younger generations are leaning towards materialism and urbanization, often displaying less awareness of and appreciation for nature and their surroundings.
Presently, numerous environmental campaigns are underway, aiming to rekindle and nurture love for nature. One such initiative is the "Zero Starving Sea Turtles" project led by the siblings of Mr. Arin Thongtang (In) and Miss. Arisa Thongtang (Aim), who are filled with a passion for conserving endangered sea turtles.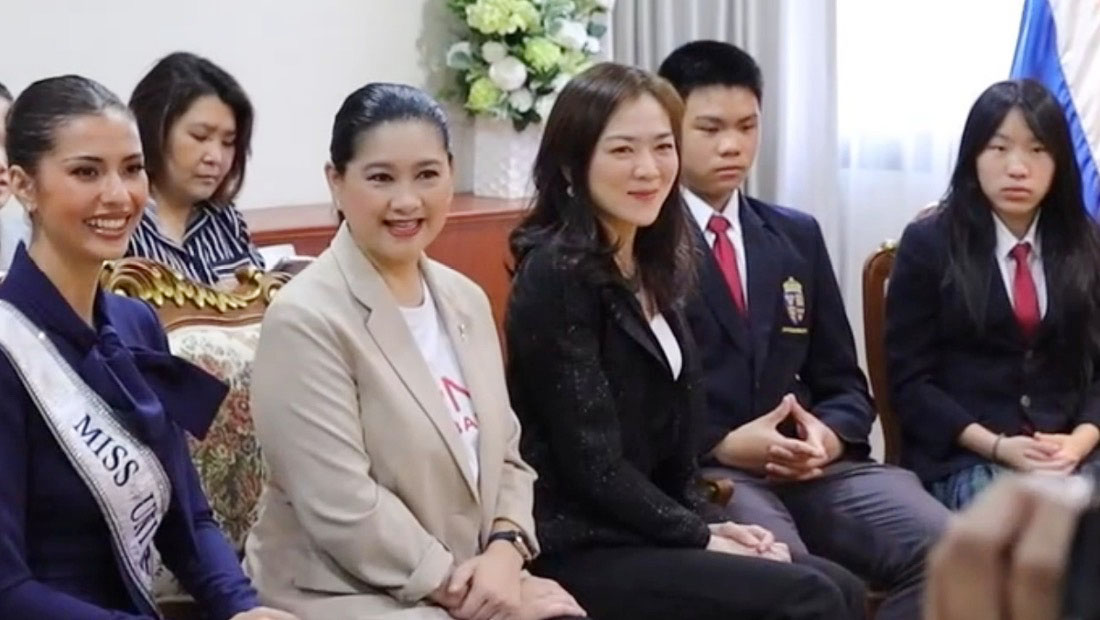 Their fundraising project focuses on nurturing sea turtle hatchlings to increase the survival rate of baby sea turtles, raising it from a mere 0.1% when these hatchlings are left in their natural environment to a remarkable 70% if they are nurtured to reach a weight of no less than 2kgs and a minimum length of 1 foot before being returned to the ocean.
Mr. Arin Thongtang (In) and Miss. Arisa Thongtang (Aim) revealed their deep affinity for reptiles. They have raised tortoises and freshwater turtles, even constructing ponds at home to nurture them. In December 2022, they had the opportunity to visit the Koh Man Nai Sea Turtle Conservation Center with their family and friends, gaining invaluable insights into the challenges faced by sea turtles and the center's commendable efforts. 
This sanctuary has nurtured tens of thousands of hatchlings and provided care and rehabilitation for injured turtles, with its initiation dating back to the Queen of the Ninth Reign in 1975. This experience ignited within them the desire to initiate public awareness, fostering change, and enlightening others about these magnificent creatures. Their aim is to transform their personal passion for animal care into a purposeful contribution to society and the environment.
Mr. Arin Thongtang (In) and Miss. Arisa Thongtang (Aim) are fascinated by the fact that sea turtles have been in this world for ages and have managed to adapt and survive until today. They are companions to dinosaurs, which became extinct about 110 million years ago. Additionally, sea turtles play a crucial role in maintaining marine food chains and ecosystems. They are recognized as ecological keystone species that provide habitat for other marine life, thus contributing to biodiversity.
As herbivores, they regulate seagrass and algae, which, in turn, benefits coral reefs. The declining sea turtle populations have far-reaching consequences for the marine environment, including disrupted water flow and increased seagrass blocking sunlight. This, in turn, triggers issues like soil erosion, excessive growth of microorganisms, and imbalanced ecosystems. The absence of sea turtles also poses challenges for both predator and prey populations.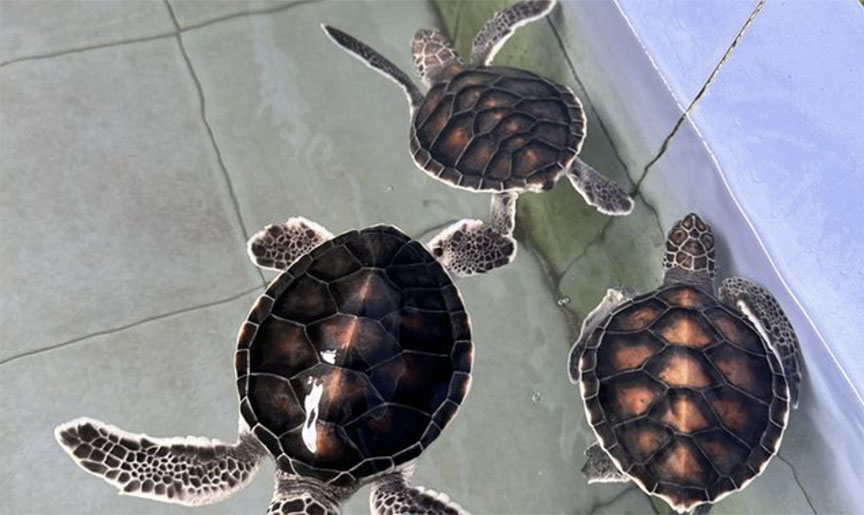 Mr. Arin Thongtang (In) and Miss. Arisa Thongtang (Aim) had the opportunity to meet with Deputy Prime Minister and Minister of Natural Resources and Environment, Pol. Gen. Patcharawat Wongsuwan, to introduce their project. The Minister praised them for initiating this well-aware project, which reflects their proactive commitment to society and the environment.
Although the project may seem relatively small in size, it serves as a crucial stepping stone for the youth to take a lead, take action, and conscientiously care for the world around them. The younger generation will play an important role in the restoration of the environment and its resources.
These wholehearted siblings would like the Ministry of Natural Resources and Environment to take charge of increasing awareness, understanding, and knowledge about how to care for sea turtles. Many people mistakenly believe that releasing baby sea turtles, as small as 10-baht coins, into the sea is a good deed.
However, in reality, these tiny sea turtles are unlikely to survive, as they will be overwhelmed by their natural predators. Therefore, the objective of the "Zero Starving Sea Turtles" project is to seek funding to nurture sea turtle hatchlings until they reach a weight of at least 2kg and a minimum length of 1 foot, which takes approximately around 200 days of nurturing before releasing them back into the wild.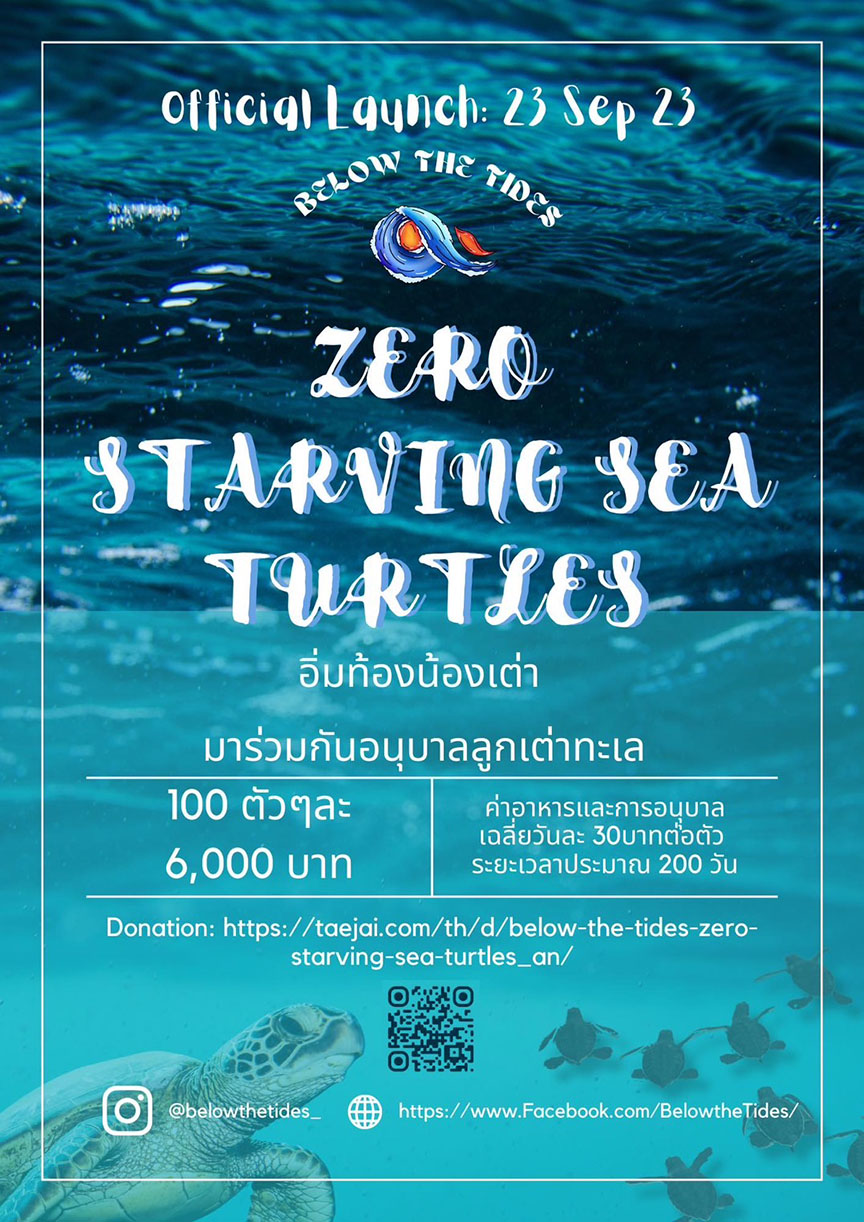 The target fundraising for this project is set at 600,000 baht, assuming a minimum expense associated with nurturing sea turtle hatchlings is 6,000 baht each, which equates to 30 baht per day. Over the course of a day, the dietary regimen includes breakfast, featuring fresh or pellet-based nutrition, amounting to approximately 10 baht per serving. For the midday meal, a selection of fresh vegetables like Chinese kale is provided.
These items are both easily procurable and capable of prolonged storage, collectively incurring an average cost of about 10 baht, with an additional 10 baht for medical expenses, culminating in a total of 30 baht per day. Their intention is to set an objective aimed at collaboratively raising funds to cover the expenses associated with nurturing food for 100 sea turtle hatchlings.
If you are interested in being a part of the effort to restore the balance of the undersea, please consider contributing to the "Zero Starving Sea Turtles" project by Below the Tides through the Taejai platform at https://taejai.com/en/d/below-the-tides-zero-starving-sea-turtles_an/#donate