Drive past Don Mueang Airport and Rangsit University, and among uniform townhouses on Ek Charoen Road it's hard to miss the burst of bright pastel blues and purples that is Mermaid Island Cafe.
Step inside to enter an undersea home for fans of equally fluid identities to slip on a tail and lounge on shell-shaped pillows as they eat sweets, sing songs and hang out.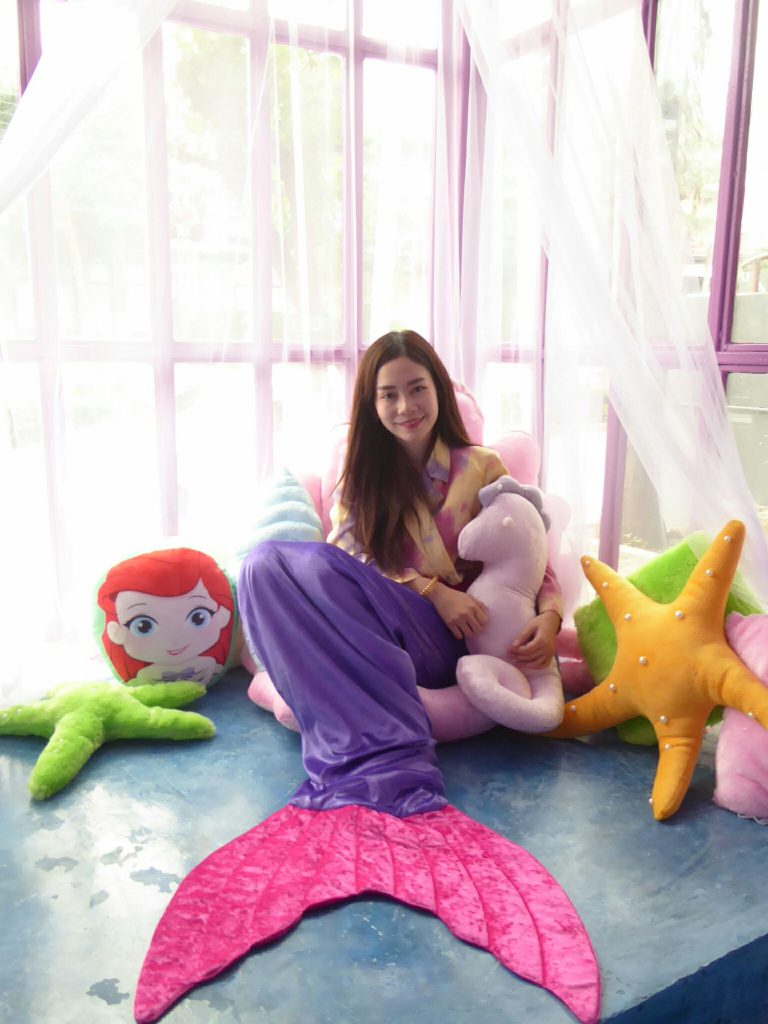 "I think people like the theme because it's something that you know is definitely not reality," 22-year-old owner Kuliga Pongsooksiri said.
She opened the cafe with her girlfriend about two months ago.
"I painted the walls and strung all the beads myself," she said, pointing to the fish scales painted on the pastel walls and sparkling beads hanging from the ceiling.
From the waist up on a recent afternoon, Kuliga was a fourth-year Bangkok University. From the waist down, she was all mermaid, with purple tail and large pink fins.
Why did she open a mermaid-themed cafe where she and strangers could lie around in mermaid costumes? Where "Part of Your World," a popular ballad from the 1989 Disney animated film, blasts on repeat?
"I just love 'The Little Mermaid,'" she explained.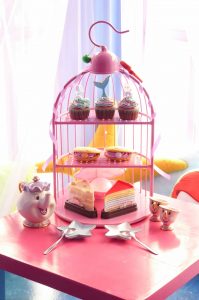 It's one of a handful of fairy-tale cafes popping up around Bangkok with themes such as Alice in Wonderland or otherwise to offer cute havens of candied escapism.
The menu at Mermaid Island, which opened two months ago, is limited to a few savory dishes, Italian sodas and a Signature Set (590 baht). Arguably the most nerdmaid-centric, the set includes three red velvet Mermaid Cupcakes (85 baht) topped with purple-blue cream cheese frosting and a sugar mermaid tail.
There are also Mermaid's Shells (69 baht) cookies filled with a purple-colored white chocolate mousse with Mentos "pearl." It's served with slices of rainbow crepe cake and macadamia cake, and tea or cocoa is served in a teapot and cup shaped like Mrs. Potts and Chip from "Beauty and the Beast."
The taste is buttery and sugary, nothing to write to Triton about.
Cafe food is not so much the point here. It's the chance to be Ariel, belting out songs while wearing a plush mermaid tail.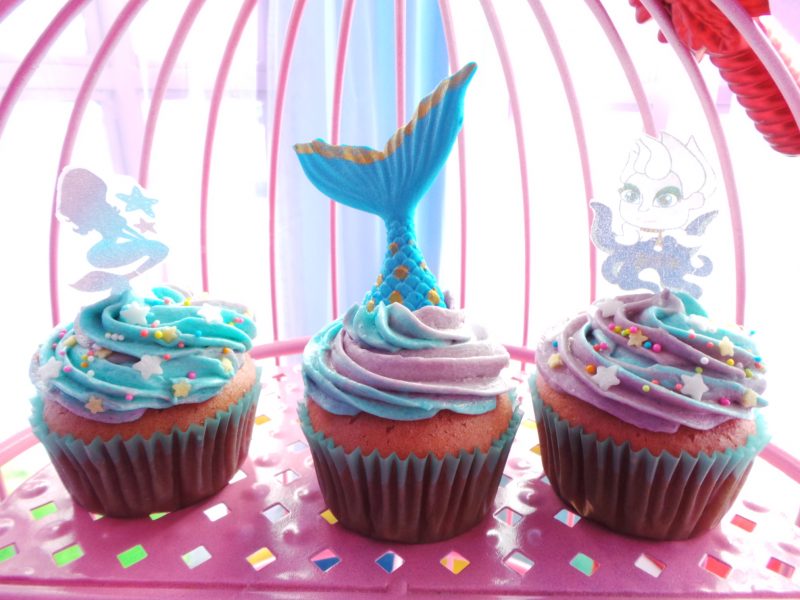 "Almost all of my customers are female: children, teens, office ladies, and sao song," she said, referring to transgender women. "I remember on the first day the cafe opened, there was a group of seven to eight sao song who sang and danced to Ariel songs."
Another time, a child ran up to her.
"She asked me for an extra fork, so I gave it to her. She used it to comb her hair, just like Ariel in the movie."
The pet-friendly Mermaid Island Cafe is located on Ek Charoen Road past Rangsit University. It's open 11am to 8pm every day except Tuesday.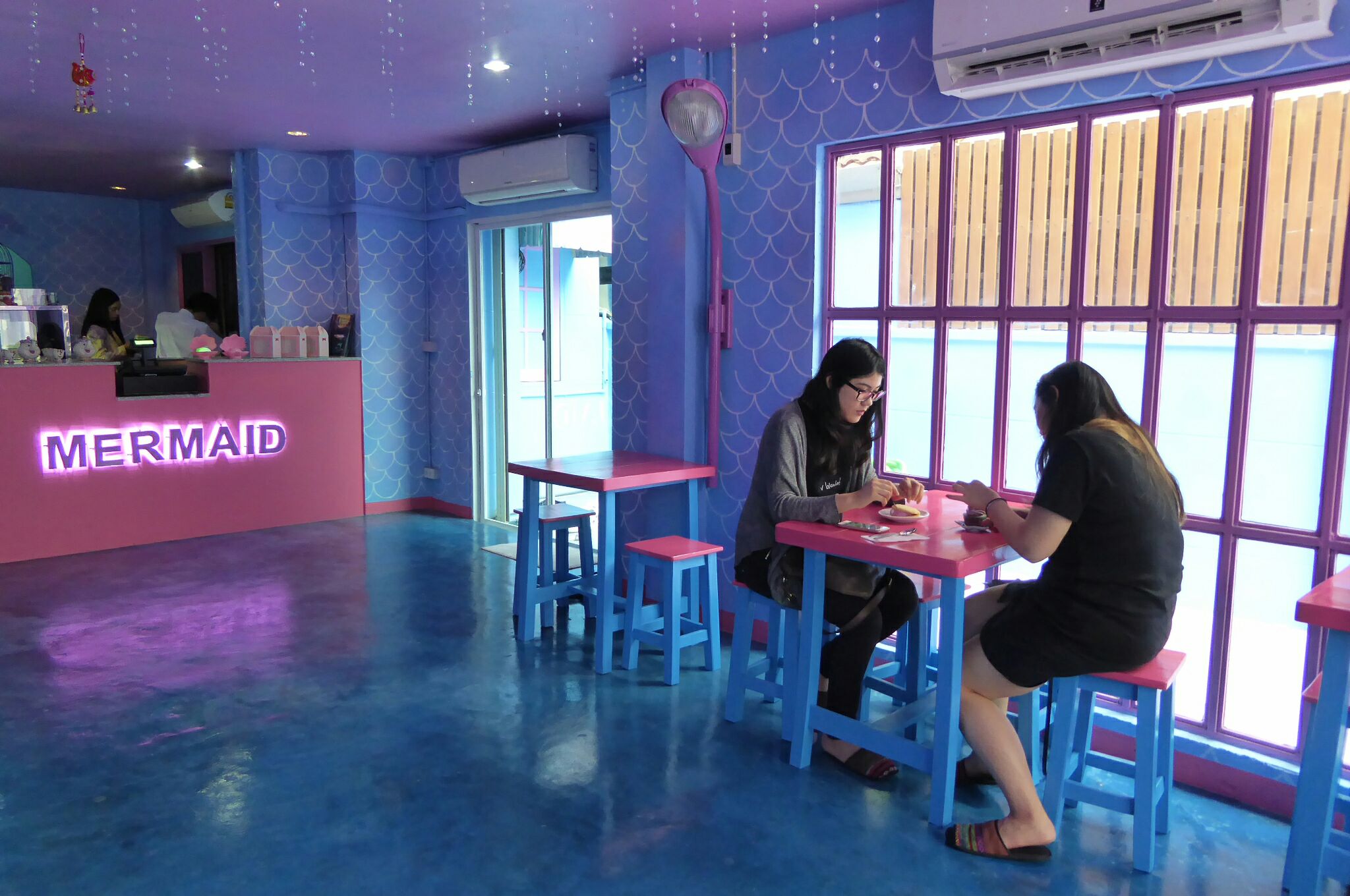 Perhaps Rabbits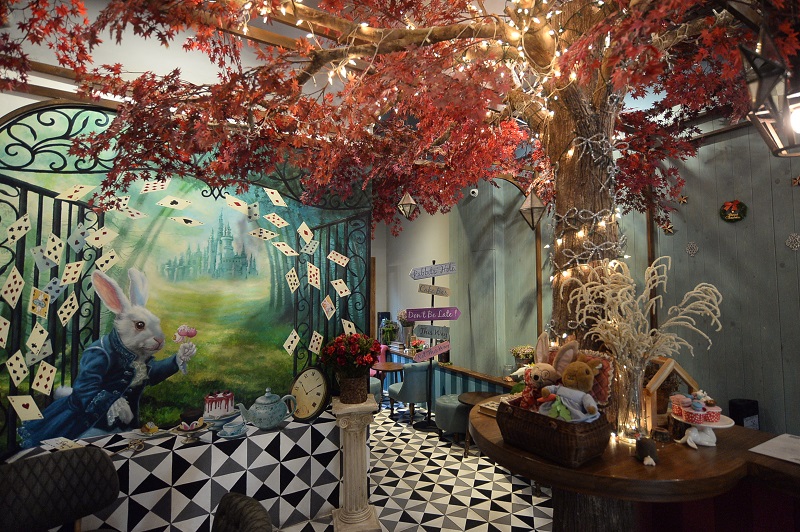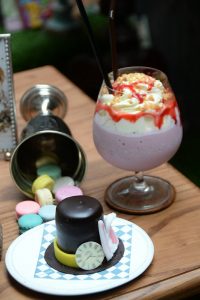 For a taste of high fantasy that's less pink, follow the white rabbit to Ekkamai.
Perhaps Rabbits is an Alice in Wonderland-themed, rabbit hole-sized cafe with dazzling diamond-pattern floors, a large faux tree and private tea party area.
Sitting in a tiny, plush armchair surveying her Wonderland on a recent visit was 29-year-old co-owner Rubkwan Jirabonvisut.
"This place is like an escape from the normal world for my customers," Rubkwan said.
About half of the two-year-old cafe's customers are girls in their teen and early 20s, he said, with mostly Chinese, Singaporean and Hong Kong tourists making up the rest.
Beside Rubkwan's chair is a signpost reading "This Way," "Not This Way," decorative macarons and an airbrushed white rabbit mural.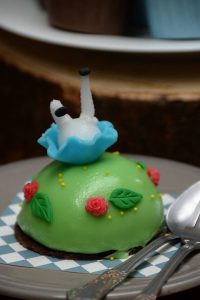 Curiouser and curiouser.
"When choosing the theme for our cafe, my investors and I chose this because we were all born in the Year of the Rabbit," Rubkwan said. "We also all liked Alice in Wonderland from the Disney movie, even before the live action ones."
She said people like to come in and take photos.
"Sometimes, even anime cosplayers come in full costume to pose with the decor," she said.
Customers can have tea with the Mad Hatter with a selection of heavy, cheesy desserts that pair well with, well, teas.
Green Tea Bush (190 baht) is a dense, dome-shaped mousse with a sponge cake base and slight green tea flavor, topped with sugar roses and Alice's skirt, bloomers and legs made of fondant, depicting her falling into shrubbery.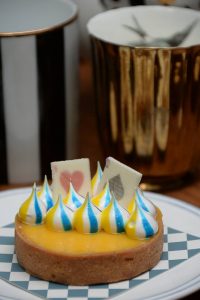 The Mad Hatter Mousse (160 baht) is a hat-shaped, white-and-dark chocolate layered mousse topped with more chocolate, sugar rabbit ears, and a white choc clock face.
The delightful Pony Poops Lemon Tart's (160 baht) filling is the right blend of tangy and creamy, topped with whimsical multicolored striped whipped cream and white chocolate playing cards.
Perhaps Rabbits is on the corner of Soi Sukhumvit 63 and Soi Ekkamai 10 and right next to Health Land. It's open daily 9am to 9pm. Private tea parties can be booked in advance so that you have the whole back room to go mad in. Take a motorcycle from BTS Ekkamai station.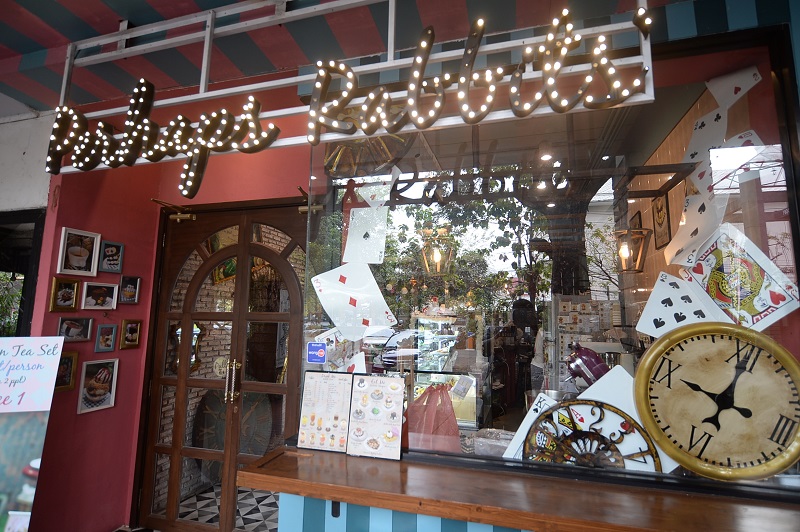 Mocking Tales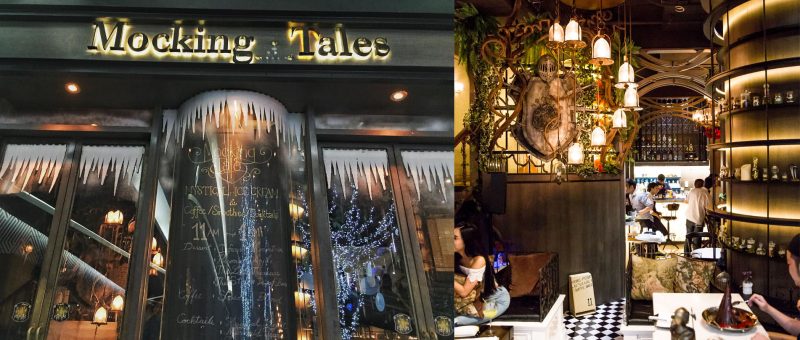 For a darker, more adult taste of fantasy, there's cafe-by-day, bar-by-night Mocking Tales, tucked into Thonglor.
"We're mocking themes about fairy tales," co-founder Kritsada Atsawaphonsakun, 25, said, explaining the name had nothing to do with "The Hunger Games."
Instead, the look and feel of his shop came from the Beauty and the Beast stage musical, he said.
Mocking Tales serves food, dessert and alcohol with loose fairytale themes you can enjoy with live music that plays 9pm to 11pm, Wednesdays through Fridays.
"There aren't many fairytale-themed cafes, especially ones with a darker theme like ours. I wanted to make a place for adults who love fantasy," he said.
Indeed the medieval wrought-iron interior is a departure from the pastel whimsy of other theme establishments.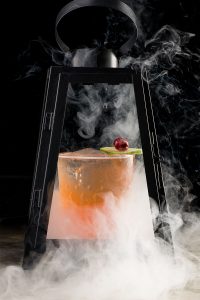 Loose fantasy dishes coincide with general fairytale canon and all the pop fantasy series and movies.
There's a Snow White-themed "Poisoned Apple" (280 baht) baked apple dessert and a Christmas Carol-inspired trio of desserts named after the spirits in the story. Curiously, "Spirit of the Present" (350 baht) resembles a green Troll's head.
More movie-specific desserts are Harry Potter-inspired lantern-shaped cocktail "Magical Light," (380 baht, mocktail 220 baht) Pirates of the Caribbean-themed toast-and-ice cream "Lost Treasure" and Lord of the Rings-inspired "Infernal Mountain," a flammable, chocolate Mount Doom.
The little-bit-of-everything, loosely-adapted-from-popular canon melting pot of fairytale fare offered by Mocking Tales may be an accurate representation of the average Thai's treatment and understanding of Western fantasy.
Does "Magical Light," a cocktail of Rosso vermouth peach liqueur, gin and rose scent, fit the Harry Potter theme? Maybe, maybe not, but it's fantastic enough for a good Instagramming, a rush of sweetness and the alcohol can always help recall other fantasy worlds where lanterns light the way.