Top: Russian salad, dumplings and borscht. Photos: Alesha Voronin / Courtesy
BANGKOK — If there's a soulful longing within you to stroll the wintry paths of Gorky Park before sharing a bottle – or three – of vodka with a comrade, then head to Charoenkrung neighborhood next week for a Russian feast.
Russian chef Alesha Voronin will cook up seven courses of Russian food to the tune of the bayan accordion churning out Russian folk songs in FooJohn Building restaurant for his A Night in Moscow dinner.
"In Bangkok, there's no Russian restaurant. It's a very serious thing, even though there are a lot of Russians here," said Voronin, native of Salekhard, located on the Arctic Circle.
Although Voronin has no official chef license, he is self-taught and says he has been cooking for his family since he was three. He saved up money when he was five to buy culinary magazines for recipe inspiration. He cooks a Russian brunch at Quince restaurant at Sukhumvit Soi 45, too.
Join Voronin for a chance to eat russki and Soviet-era food staples such as black bread served with pickles and cold cuts, followed by hearty beef borscht and smoked sausages and potatoes.
"Definitely, everyone will be screaming for my food," Voronin said, laughing. "Everything is homemade from scratch and it will be like eating at home."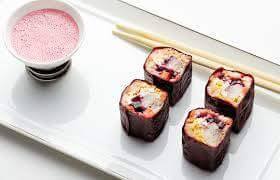 Another dish hard to find outside of the Russian motherland is dressed herring, or herring under a fur coat, a herring salad layered with carrots, beets, onions, potatoes – and lots of mayo. The dish is said to have been invented in 1919 as an accompaniment to revolutionary debates: the herring symbolized the proletariat, potatoes symbolized the peasantry while the red beets symbolized blood and the Bolshevik flag. Voronin's variety on Tuesday will present the salad in the form of Japanese maki rolls.
For dessert, Voronin will serve syrniki, fried quark cheese pancakes served with berry sauce and sour cream. Wash it all down with raspberry mors, a fruit drink served with mint – and of course – horseradish vodka.
Attendance is limited to 25 seats, each for 1,400 baht. Reservations are required and can be made by phone. A Night in Moscow starts at 7pm on Tuesday at FooJohn Building, a 15-minute walk or short taxi ride away from MRT Hua Lamphong.