BANGKOK — A Japanese restaurant that looks like a French bistro and tastes like a marriage of sashimi and butter wants to redefine how much personality a hotel eatery is allowed to have.
Tenshino – a Japanese homophone for "heaven" or "angels" – recently opened on the second floor of the Pullman Bangkok King Power hotel to serve dishes based in Japanese cuisine but drawing upon ingredients from around the world.
But don't use the F-word with head chef Yohei Okita.
"It's not like fusion," Yohei, 50, said. "It's mixing Japanese skill with French, Japanese and American taste."
Okita, who previously worked at Siam Country Club, shows his creativity by mixing imported ingredients into his dishes, reciting the origin of each ingredient by rote. The lobster is from America, the chicken is local, the wasabi from Shizuoka – and most importantly, the fish is from Tokyo's famed Tsukiji Market.
"I lived there 10 minutes away by bicycle. So my tongue always remembers the fresh taste," the head chef said.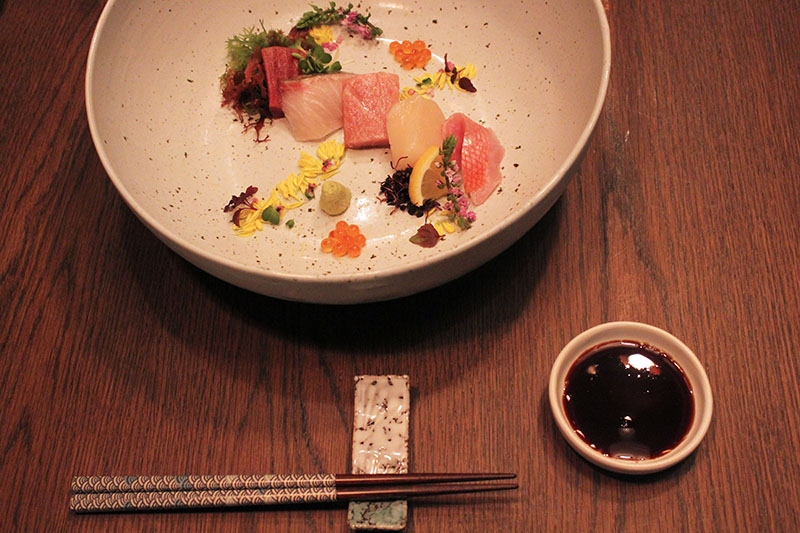 Okita's favorite dish is Sashimi of the Day (฿1,170) flown in from said market three times a week. Fish types rotate with every day, so you're in luck if there's scallop and kinmedai fish rather than tuna. Their juicy, white meat dusted with edible flowers and microgreens is a kiss from the ocean for any raw fish lover – shame that the dish only came with seven or so pieces – but they're good-sized.
"It looks easy, but it's it's difficult to keep fresh," Okita said.
The Grilled Chicken Kyoto Style (฿450) is unremarkable but for its green chili and yuzu sauce that offers depths and levels of spice. The side of Black Truffle Cold Soba (฿300), though refreshing, is not memorable.
Chef Okita says he wants his Western-tinged dishes to be shared among people to build social bonds.
"Japanese-style, sharing is normal but French style they eat individually," Okita said. "Before the Internet era 20 years ago it was different. Now people just use Messenger and Line. But face to face is better. That's why it's not so noisy in here so you can communicate, share food and become closer than before."
One of those sharing dishes is Live Lobster and Seaweed Butter (฿1,780), soaked in the butteriest butter and cut with yuzu ponzu. For that price tag, experience the joy of pulling out a pre-cracked lobster claw sprinkled with flower petals and chewing on its lovely, springy texture.
But if all you wanted was lobster, any lobster, it's probably easier to find a cheaper version with run-of-the-mill seafood sauce at local or seaside restaurants.
Okita says prices are set at international standards, especially for imported ingredients.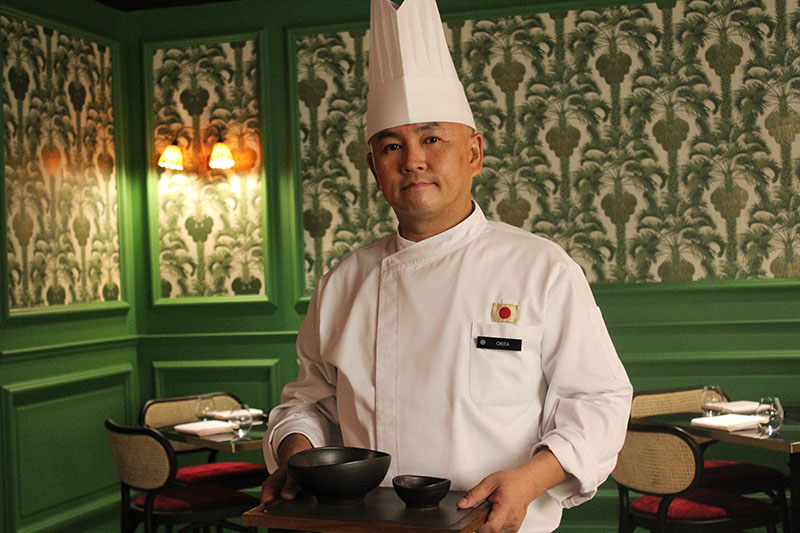 "I don't think it's expensive. It's not local fish like from Pattaya," he said. "This is the standard international price."
The restaurant can seat up to 90 and has a small smoking area. Vegetarians can order the Daikon Salad (฿300), Daikon Confit (฿110) and Japanese Pickles (฿190) although pescatarians can eat almost the entire menu.
There's no denying Tenshino has more youthful personality and uniqueness than the average hotel restaurant. The fern-green walls with palm motifs behind the bar, the myrtle walls covered with golden-framed Japanese prints and still life put any customer into a relaxed mood, while still feeling classy under the light of chandeliers and glowing globes.
"It's not traditional fine dining. I want you to feel like you can drop something and make noise," manager Botsayarart Covintranont said. "It's not a Japanese restaurant with only wood and a Zen feel. It's a sexy vibe. Some customers told me they feel like they're in the Gatsby movie."
It's worth ordering the Azuki-Matcha Mochi dessert (฿250) and sake cocktail Sakir (฿400) and sitting in a velvet green booth to be transported to an alternate timeline between the 20s and 50s where the Japanese and French married their cultures at a hotel bar. Just close your eyes to the new-age jazz.
Otherwise, it works for a splurgey-date or a fancy night out with the girlfriends.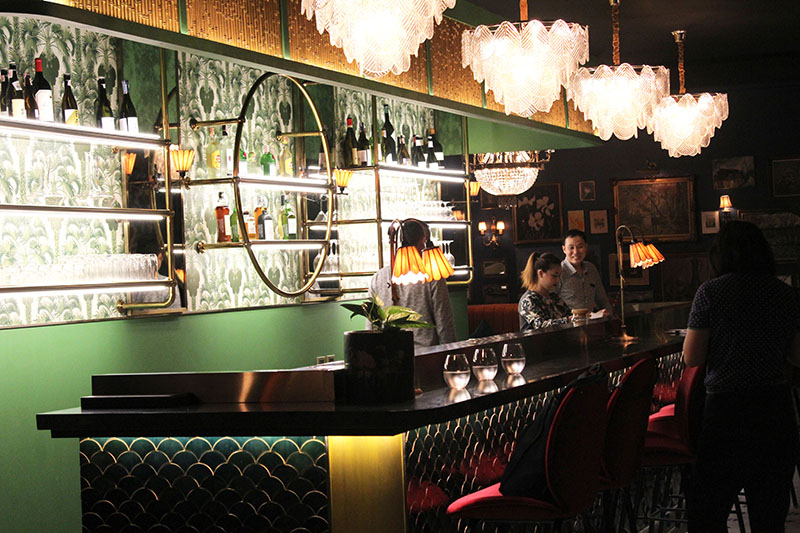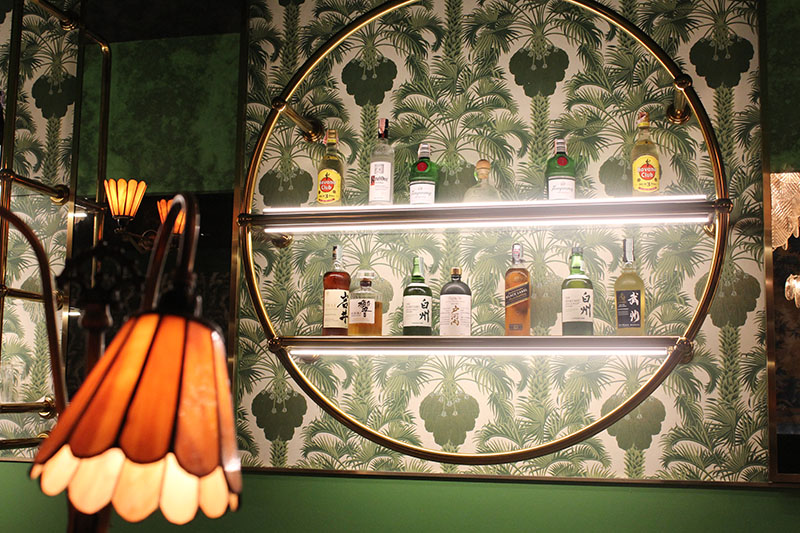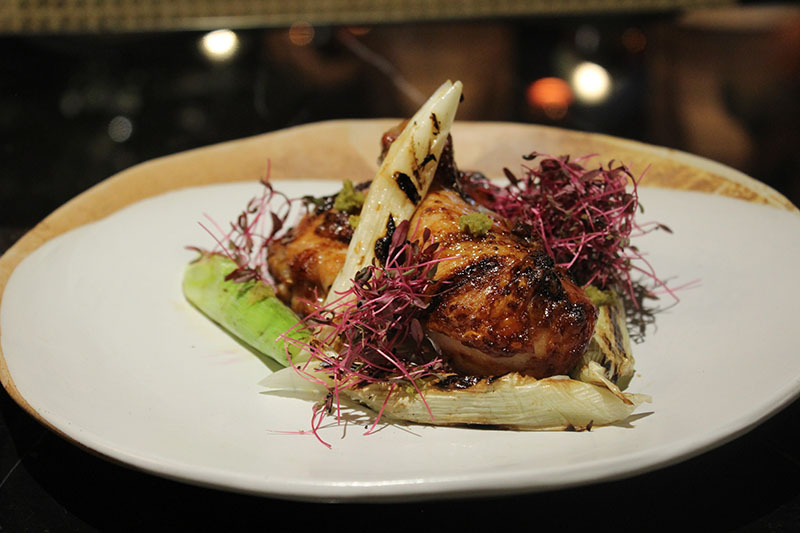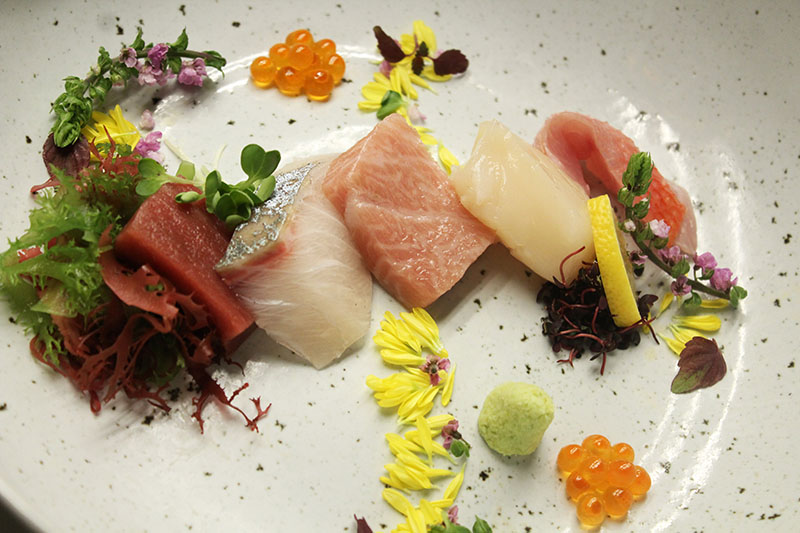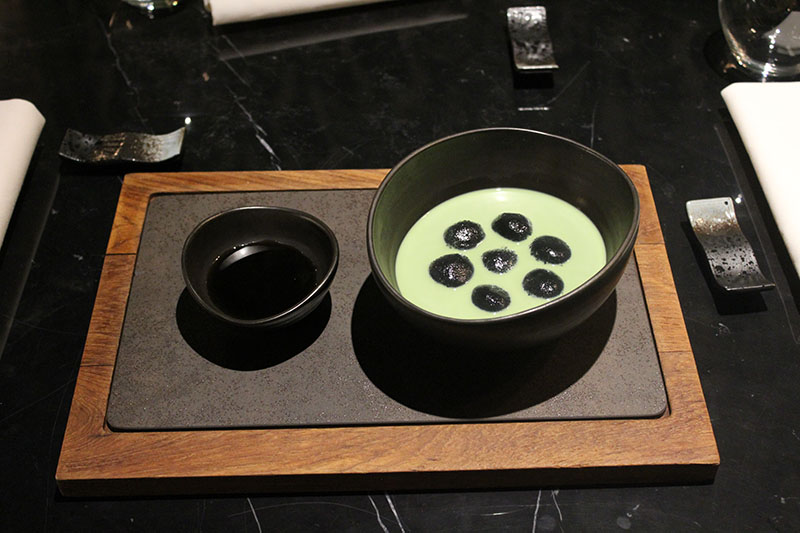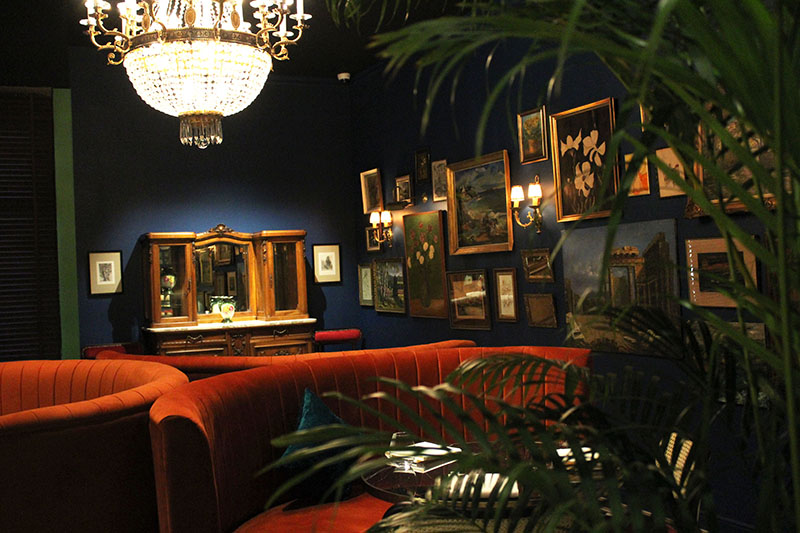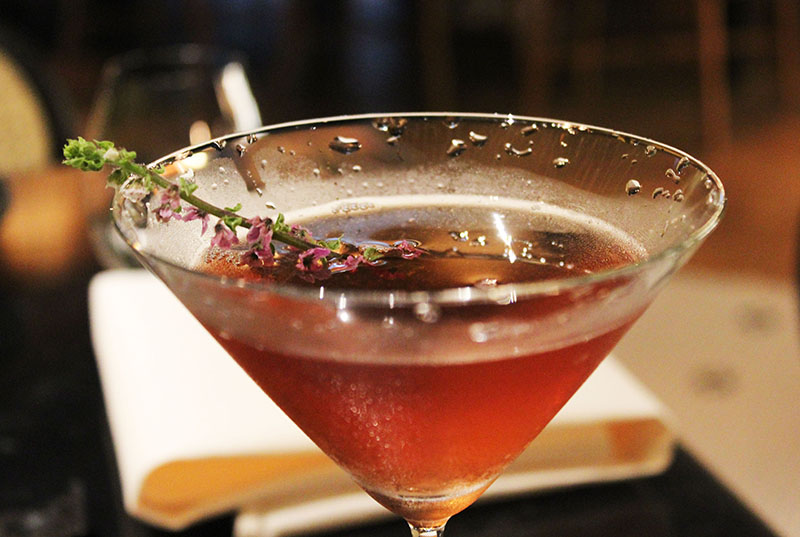 Tenshino is open 6pm to 11pm every day. It's located in the Pullman Bangkok King Power, a short walk from BTS Victory Monument exit No. 2.
Photos by Taylor McAvoy