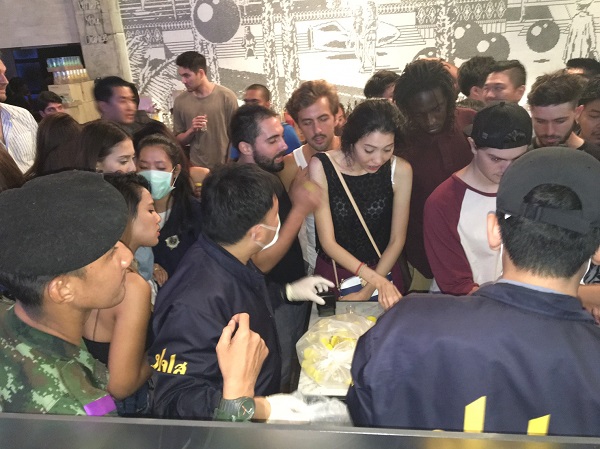 BANGKOK — Soldiers raided and shut down three downtown nightclubs early Sunday morning.
Beam, a high-end dance club in Thonglor's 72 Courtyard had more than 100 guests inside when it was stormed by soldiers and narcotics officers at 3am. Officers also raided two Soi Sukhumvit 11 venues: Climax in the basement of the Ambassador Hotel and the nearby Daawat Restaurant & Night Club.
Both Thai and foreign guests were asked to show identification and were tested for drugs. Officers said they did not find anyone testing positive for drugs or any underage drinking.
Forty hookahs and 2.5 kilograms of tobacco were confiscated from the Indian-style restaurant Daawat.
Col. Noppasit Sitthiphongsophon, who led the raid, said they had received complaints the clubs were open after 2am. He said the operators of all three clubs failed to present their licenses when asked.
Noppasit said he would hand the cases over for police to pursue further.
Since the military came to power in May 2014, it has brought Bangkok's once free-wheeling nightlife to heel by more widely enforcing what were once negotiable closing times.
Under junta order No. 22 issued in July 2015, officers have the power to revoke the license of a club for five years if it is open past legal closing time.