Bristol-based producer Anthony Williams made waves in the early 2000s dubstep scene releasing music under his Headhunter alias.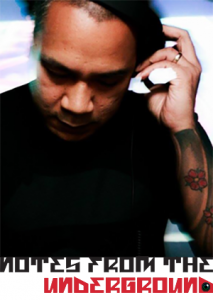 The years that came after dubstep's wake would also see Williams ditching dubstep's signature half-tempo rhythms and wobble basslines to experiment with other styles of music, becoming what is now called  'bass music' an umbrella term for dubstep's cross pollination with other genres of electronic music.
Under his new moniker Addison Groove he released his first track "Footcrab" in 2010. The track's two syllable sample along with his now signature booming 808 drum beat is considered a classic and was praised by the likes of Aphex Twin, Ricardo Villalobos and Mr. Scruff.
Why did he make the switch from dubstep?
"Women!," he laughed. "Just kidding. But really, I was always into other music, so it was natural to make a change and also at the time footwork was really interesting for me," he said.
"By 2010, I had made a few of my own footwork-inspired tracks and felt that it was such a different sound to my headhunter stuff that I needed to create a new name for it, and Addison Groove was born," Williams said.
In 2012, the producer joined Modeselektor's Mighty 50 weapons label to drop his sophomore album "Transistor Rhythm." The album has the producer diving further into his fascination with American footwork, Juke and Ghetto tek music.
As for the source of his inspiration, he credits the dons of Chicago footwork.
"I'd say it was DJ Spinn and Rashad that were the biggest influence, along with Clent, Traxman and RP Boo," he said, adding that there's a small juke / footwork scene happening in Europe. "It seems okay in Europe. Certain places pop off more than others, such as Belgrade, where they have a good crew of guys pushing the sound (Mystic Stylez). There seems to be a good bunch of guys out in Poland as well."
This year, Addison Grooves' latest release is "Changa" a vinyl-only release that once again sees the producer experimenting and reinventing himself. This time ditching his polished sound for a more gritty cut-up and re-edited 70s Afro beat sample, but layered over Addison's signature booming 808 beats.
"Hell yeah. I'm a little unpredictable but I want it that way. I'll put out whatever i feel is right and I'm definitely into the Afro sound for sure right now. I've been slowly lowering my bpm speeds, maybe that's a reflection of me 'growing up' hah," Williams said.
His fans in Thailand are in for a treat this Songkran. Addison Groove will play Saturday at Beam. He even says he might have some special Thai funk edits to play for Songkran partygoers.
The event starts at 9pm until late. Entry is 300 baht.
As for me, I'll be playing on Sunday at the Paradise Island Festival In Koh Samui. Come say hello if you see me but if not, please have a fun and safe Songkran. Until next time Dub be good to you.