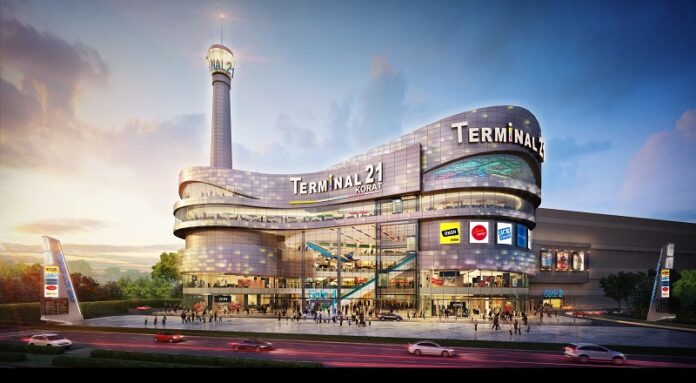 KORAT — A Terminal 21 shopping mall will open in the center of Isaan with all kinds of lifestyle excitement this Monday.
The mixed-use complex Terminal 21 has expanded the realm to the northeast region. Its second branch, Terminal 21 Korat, will stretched up to 7 storeys on a 32-rai land along the city's Mittraphap highway.
The 6 billion-baht shopping mall is three times bigger than the original in the capital. It has a sky-high airport-style "control tower" said to climb 30-stories.
The venue promises more than 200 shops, seven SF Cinema theatres, an ice skating rink, an amusement park and more. Like the original, each floor will be decorated in the theme of popular cities worldwide including Paris, London, Tokyo and San Francisco.
The parking lot will accommodate 2,500 cars and 1,800 motorbikes. The newest megastore was built by Siam Retail Development, the same group behind the original Terminal 21. Starting Monday, it will be open 10am to 10pm daily.