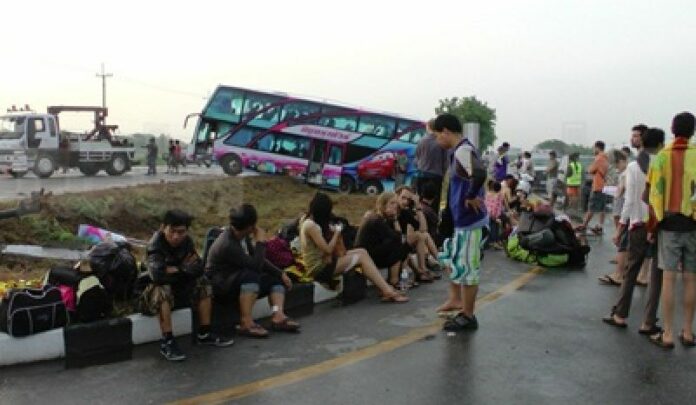 (22 April) An accident involving an inter-provincial bus packed with Thais and foreign tourists in Chainat province injured 10 passengers.
Police were alerted of the accident, which took place around kilometer mark 112-113 of the Asia Highway in Sappaya sub-district, around 05.30 am. At the scene, rescue crew discovered an overturned two-storey bus in the concrete ditch next to the highway. Paramedics tended to the wounded at the scene, while those with more serious condition were sent to Sappaya Hospital.
A police officer said the bus was driven by Mr. Nit Songkratoke, 54, and carried 48 passengers, including 15 foreign tourists, headed from Chiang Mai province to Bangkok. The bus was particularly packed because many people are traveling back to the capital city as Songkran holiday season wrapped up, the officer added.
Nationalities of the tourists were not immediately known.
Mr. Nit told police it was raining when he encountered a truck heading off near a U-Turn, so he tried to brake the bus but lost control, sending to the bus into the ditch.
However, Mr. Narin Im-yim, one of the injured passenger, said the driver was driving very fast since the bus left Chiang Mai and refused to slow down even when it ran into potholes in the highway. Mr. Narin said the bus crashed into a signpost before landed at the ditch.