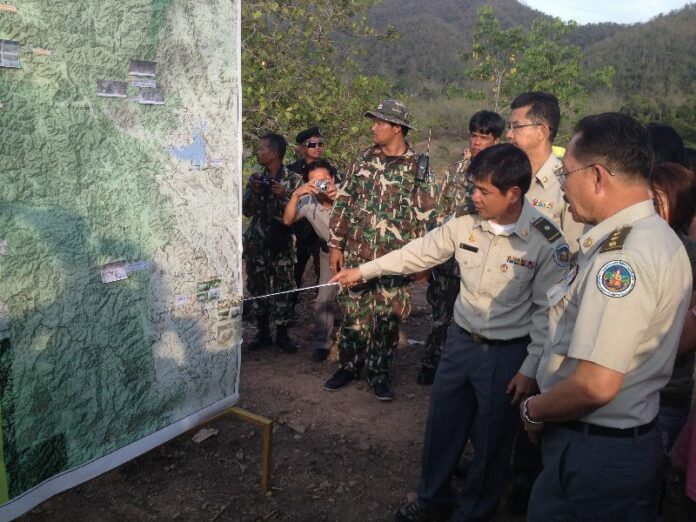 (24 April) Officials are still trying to verify reports that a ?white elephant?, a rare type of elephants held to be lucky by the Thai royal custom, has been found in Petchaburi province′s Kaeng Krachan National Park.
Royal tradition decrees that white elephants are sacred Auspicious Elephants whose presence in the palace compound reinforces the monarch′s supernatural power. Siamese kings in the past who possessed white elephants were particularly revered.
There has been reports in the past week that a 4-5 year old white elephant has been spotted near a reservoir in Kaeng Krachan. A photojournalist had snapped a photo showing the said elephant frolicking while a large elephant stood nearby.
Mr. Manopat Huamuangkaew, head of the National Park Department, said the photo was not enough to determine if it is indeed a white elephant, pointing out that the elephant seems to have black tail in the photo.
Nonetheless, Mr. Manopat said that if the elephant had been captured, it will be determined by palace officials whether it possesses the traits of Auspicious Elephants. Once confirmed, it will be offered to the royal household as the tradition decrees.
Meanwhile, Mr. Dulasit Sanitwong Na Ayuddhaya, an expert on elephant conservation, expressed his doubts that a white elephant has been found. He said the locals in Kaeng
Krachan sub-district had been aware of the elephant for years now and told him the elephant likes to frolic in light-color mud which makes its skin look similar to white elephants.
He also said white elephants tend to have isolated lives, but the ?white elephant? reported in the news was apparently photographed standing near another elephant.
Furthermore, Mr. Dulasit said he had questions whether the rumor about ?white elephant? in Kaeng Krachan was facilitated with ?conspiratorial? intention because the area was known to be plagued with illegal elephant poaching and corruption among local officials.
Other officials interviewed by Khaosod correspondent said a large, coordinated search for the ?white elephant? was ongoing, but none of them had seen the creature personally.