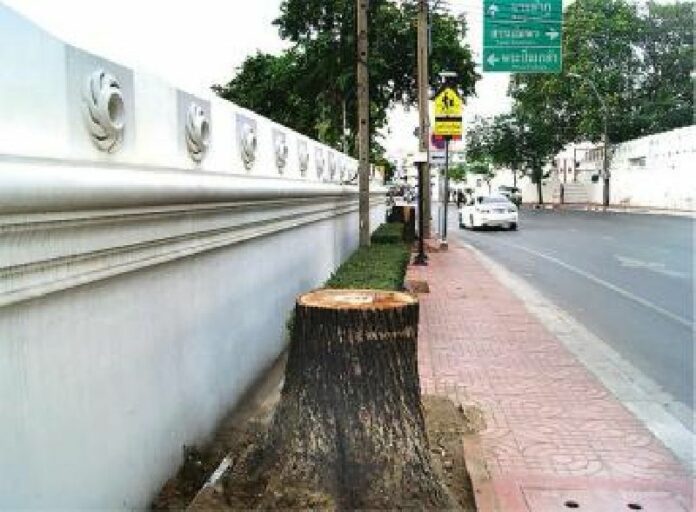 (26 April) The felling of trees in front of Ratchanadda Temple in Bangkok′s Old City was met with furor as some citizens criticized the Bangkok authorities? decision to cut down trees while promoting a greener, more environmentally friendly city.
Khaosod had been receiving complaints on the disappearance of 5 pink trumpet trees surrounding Wat Ratchanadda. The trees were torn down following what Bangkok officials claim were orders from the temple.
However, speaking to a Khaosod reporter, the abbot denies any knowledge on the subject since the trees are outside if the temple walls, pointing out that the tree was first cut in half, then stripped of all its stems until it died, prompting the tearing down of the whole tree bark.
Phra Nakorn area office said its officials were not responsible.
Meanwhile, Mr. Manus Yoonam, parks and cleanliness department official, insisted that the temple had requested the stems of the trees be removed due to its growth damaging the structure of the temple and the leaves were falling into the temple vicinity since 2009.
During that time, he said, the department took action in accordance with the temple's request. Since then, the trees have died and the department has to dig out the stubs of the trees to improve the scenery in the area. Frangipani trees will be planted in the area instead since it has a slow growth rate and does not become so tall that it will burden the temple, he said.