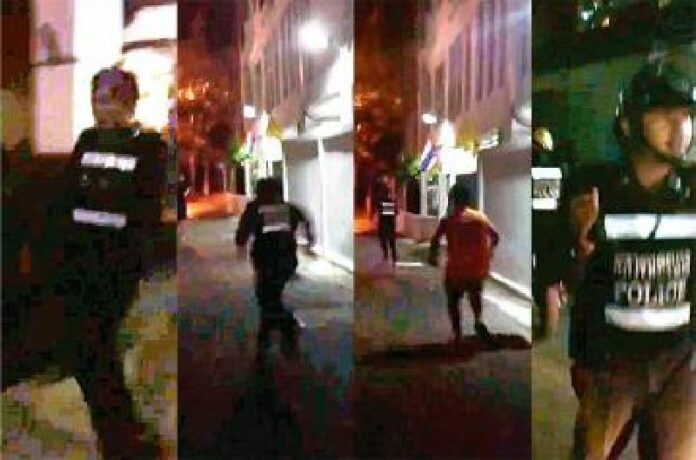 (29 April) An investigation has been launched on a police officer after a video clip of teenagers chasing the police officer as he jumps into a police vehicle and fled the scene is circulated online.
Reportedly, the police officer was forcefully taking a woman to a motel and she called her friends for help. Security footage shows the police officer and a woman arriving to the motel by motorcycle, disappearing for 30 minutes, and emerging to face the angry teenagers.
The video was uploaded on to Youtube and shows a group of men chasing after a police
officer in uniform while yelling condemning words at a motel before 2 more police officers
arrived on their motorcycles and helped the officer escape.
The video was uploaded on April 27th. The incident was described as taking place in Din Dang area of Bangkok, where a girl was searched by the policeman and taken to the motel against her will. She then secretly texts her friends for help.
Pol.Lt.Gen. Kumronvit Toobkrajang, commander of Bangkok Metropolitan Police, said his force had received report about the video but hasn't seen the video clip himself yet. He said the police officer in the video clip is on leave to take exam promotion and has been summoned for questioning.
Pol.Col. Panop Worntanatchakul, director of Din Dang police station, confirms that the man in the video clip is indeed a police officer at Din Dang police station, Sergeant Major Worawit Nokoolkij, 42.
He is currently on leave until April 30th and cannot be reached. His family has been informed that the police officer should report for questioning immediately. A committee has been established by Police District 1 and Din Dang police station to investigate this incident.
Questioning reveal that the 2 police men who came to rescue Sergeant Major Worawit were responding to a distress call and had no knowledge of the situation. The pair said they asked Sergeant Major Worawit about the incident, but he had not responded and quickly left the police station. The workers at the motel were also questioned and security camera footage was reviewed.
Police said Sergeant Major Worawit is proven guilty, he will be prosecuted by law. However, they said, it is too soon to determine the situation since no victim has come in to report or provide any additional information.