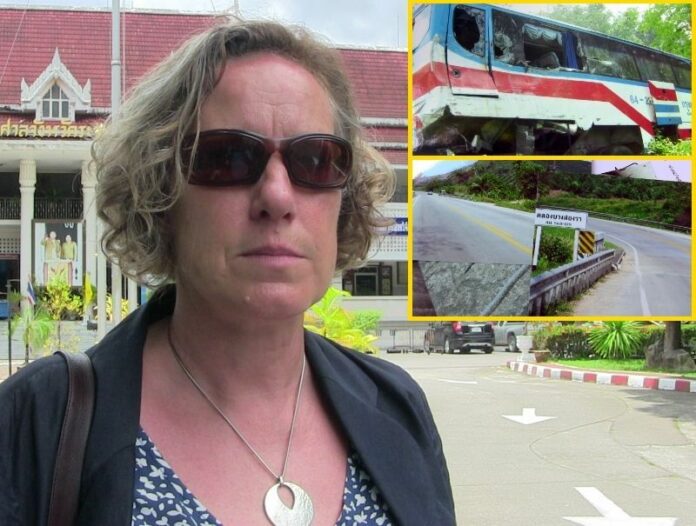 (29 April) Ms. Rachel Elizabeth Cooper, a citizen of the United Kingdom, along with her tour guide and her lawyer Ms. Thipusa Paantongkaew, arrived today at Ranong Provincial Court for the hearing of the initial judgement of the accident case which killed her son 3 years ago.
Fellick Cooper Robinson lost his life in a tour bus accident on the Ranong – Bangkok
route.The bus lost its balance when turning onto the Baan Baang Song Bridge, Ranongprovince, on 11
May 2010.
Initial investigations show that the tires of the tour bus did not have any tread,
despite the fact that the bus had just passed a safety check 3 months prior. Also, seat belts were
not provided for the passenger seats as per international standard.
Ms. Thipusa stated that
the driver has issued a confession to the attorney. The plaintiff declared to not pursue criminal
prosecution, but asks for compensation. Therefore, the court documents are to be filed again within
May 17th and allowed the defense to file a defense.
The hearing will be held on 5 June. Ms.
Rachel would appoint representatives to attend the hearing due to the high cost of travel from the
UK.
Ms. Rachel said that she was still confused by the legal procedures in Thailandwhich is
different from the UK. She said she still felt devastated that her son had lost hischance at a
future.
26,000 Thais die every year in traffic accidents, which is a very high number, Ms.
Rachel said, This case can become a study case for traffic accidents due to the poor condition of
safety tests and seat belts.
Once she returns to the UK, she said, she would campaign for
improvement of public transportation in Thailand. She also stated that if Thailand still wants
income from tourism, more attention must be paid to safety in public
transportation.