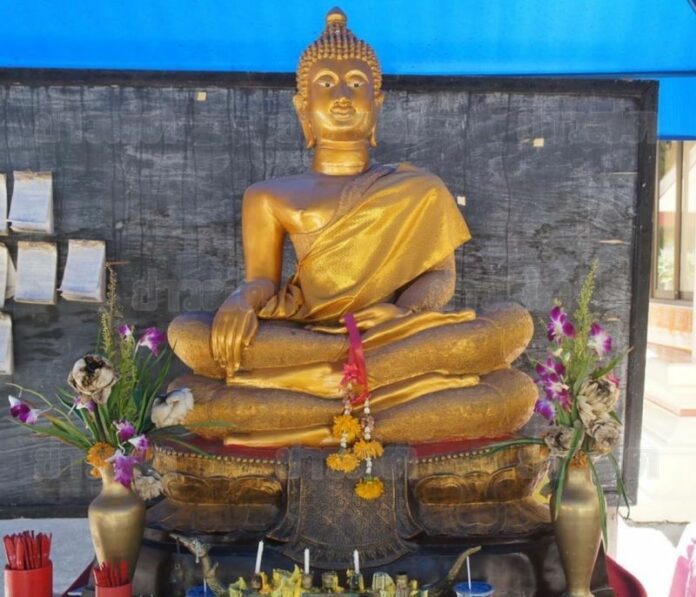 (1 May) Our correspondent has reported a curious case of the 4-legged Buddha statue was found at Boonkanchanaraam temple, Chonburi province. The golden statue was displayed inside in tent in the temple, measuring at 29 in. in width and 150 cm. in height. The four legs were crossed Indian style, with a set of legs directly below the other.
Locals named the statue "Luang Por See Kha". (The
Elder Monk Who Has 4 Legs)
Luang Por Weerayoot
Kuntatummo, who has been ordained for 13 years, said that before coming to stay at this temple, he
has seen this statue at this temple for more than 50 years and believed it to be the only Buddha
statue in Thailand with 4 legs.
Long time ago, a local suffered from bone problems and was
in great pain in his leg area, Luang Por Weerayoot said,
and had a dream one night that where Cheewok Komarapat (the doctor who treated Lord Buddha) told him
to build a 4-legged Buddha Statue at this temple for the locals to worship.
Once he followed
through with the construction of the statue, his illness was miraculouslycured and he became a very
healthy man, the monk added reverently.
His business grew as well. From then on, when
locals have ailments, especially in the leg area, they would light 3 incense sticks to ask for the
statue's blessing, and once cured, they would come back with a votive offering Luang Por Weerayoot said.
Nowadays, the popularity of the
Buddha has not waned. Crowds of worshippers can still be seen praying to the statue, our
correspondent reported.