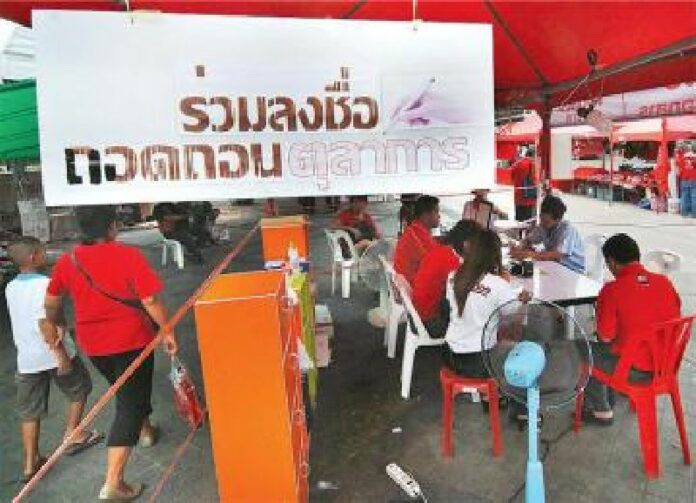 (7 May) With a day before their major rally against the Constitutional Court, the Redshirts who had been staging daily protest for 15 days in front of the Court office in Chaengwattana Road said they would abandon the protest if less than 100,000 people show up tomorrow.
Mr. Chan Chaiya, vice president of The People's Radio for Democracy, announced they will continue the largely peaceful protest until 8 May, whereby the group will take the protest to the next level with the slogan "100,000 protesters on 8 May", calling for resignation of 9 judges of the Constitutional Court and the cancellation of Section 309.
Mr. Chan said more than 100,000 protesters from 37 provinces will present.
8 May will be the deciding day for this protest. If more than 100,000 people show up, the judges will have to resign, but if less than 100,000 people show up, we will announce defeat and understand that this is not what the people want. We will end the protest immediately, he said
At the operations center of the police department, Pol.Maj.Gen. Parinya Junsuriya, vice commander of Metropolitan Police, called a meeting to prepare for the protest.
Pol.Maj.Gen. Parinya revealed that from the assessment on late night 5 May, there were 2,000 protesters. They dispersed after midnight without any violence. Officers are still performing their duty as normal, with no reinforcements.
He also stated that for 8 May, the police have prepared to protect the safety of the citizens and the government buildings in the area with the same number of police officers, since the location does not allow heavy fortification. However, the officer said, the police have prepared reinforcements should chaos ensue.
The situation is currently under control, the commander assured the reporters.
Mr.Sompoj Prasartthai, a leader of the Redshirts of Nakhon Ratchasima province, revealed that vehicles have been prepared to take the Redshirts to the protest on 8 May. A bus was chartered and will leave from Tao Suranaree monument at 07.00 am, others will travel via personal vehicles and vans. The number is currently estimated at more than 1,000.
Mr. Sompoj added that the Redshirts will not make trouble in Bangkok and urged Bangkokians to rest assure that there will be no violence.
We just want to display the power of the mass to the judges, the Redshirts leader said.