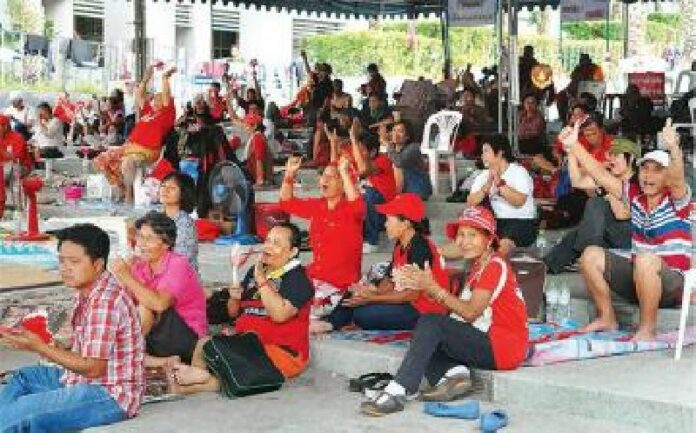 (7 May) Pheu Thai Party again tried to distance itself from the Redshirts protesters who had been campaigning for resignation of 9 Constitutional Court judges.
Mr. Prompong Noparit, spokesperson for Pheu Thai Party, responded to the reports that many Pheu Thai MPs support the Redshirts? major rally – scheduled to take place on 8 May – by insisting that all of these stories are untrue.
He said that he had personally checked with the leadership of the party, and that they have all denied support or involvement.
Mr. Prompong expressed his belief that rumors may have come from the opposition to create confusion to the people of Thailand.
The spokesperson also stated that PM Yingluck Shinawatra and her brother former PM Thaksin Shinawatra should not be dragged into this protest without evidence.
Nonetheless, he said that he believes the protest will be non-violent and law-abiding.
I am not worried about the protest, but I am worried about a third party taking advantage of the situation, Mr. Prompong was quoted as saying.
Mr.Suporn Attawong, the Deputy Prime Minister, stated that the group gathered to express their opposition to injustice and just wants to see lawmakers that are fair and just. As for the rumours that MPs have gathered protesters, he confirms that this is untrue because if that were the case, here would be more than 100,000 people in the rally.
Meanwhile, our correspondent has reported that earlier, Mr.Praset Chaikijdennapalai, an MP of Pheu Thai Party, asked the Redshirts to end the daily rally against the Constitutional Court, but the protesters asked to continue the protest until 8 May, since the mass from the 37 provinces have already made plans to attend the rally.
Latest report indicated that Pheu Thai Party leadership had contacted the group again, but any further detail was not immediately clear.