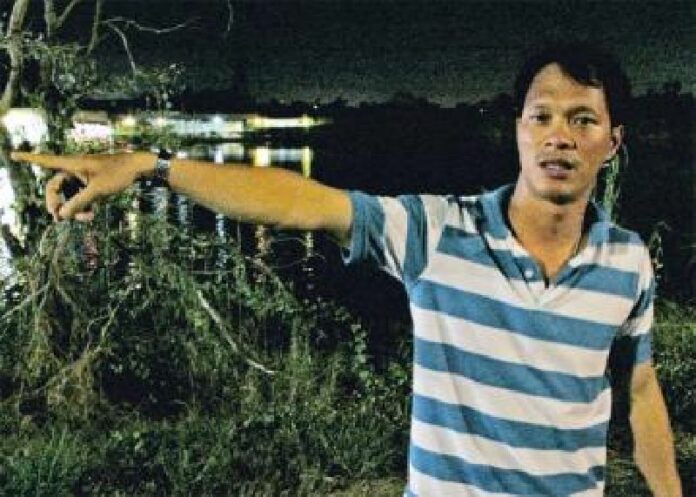 (9 May) A Toyota Fortuner was stolen after the driver parked his car on West Wongwaen Road to urinate.
Late last night, Pol.Lt.Col. Saroj Koomsub, inspector of Samkok police station, Pathumthani, received reports of a car theft where the victim got out of the car to pee and the car was promptly driven away on West Wongwaen Road. He informed his superior and radioed an order to intercept the stolen vehicle, but it wasnowhere to be found.
Mr. Fluke Kuntiya, 33, the victim, works as a mushroom salesman in Chiang Rai province. Police found him waiting at the scene, shocked, and he informed policemen that an unknown number of suspects have stolen his black Toyota Fortuner, license plate ฆค.1605 Bkk.
Mr.Fluke said that before the incident, he had been travelling from Surin province, to visit his friend in Bangkok and he was driving his girlfriend's car.
On the way, he needed to relieve himself, so he parked at the side of the road and exited the car for just one moment to pee in a brightly lit spot. He was about 7 meters from the car and had left the keys in the ignition, he said.
Just as he was still urinating, Mr. Fluke turned around to see the car being driven away, led by a dark colored pickup truck. He then ran after it and asked for help from passerby's. He also called 191 but was unable to reach the police. He walked along and went into a restaurant and use the restaurant's phone to call Samkok police station.
"It's normal for me to have to pee when I'm travelling long distance like this," Mr. Fluke said, adding that he was not familiar with this route and was unaware that I would find a gas station just 500 meters from the spot.
"I've heard about people parking on the side of the road having their cars stolen, but never thought it couldhappen to me.", he said.
The police have reached out to coordinate with neighboring provinces to search for the missing car, since the road led to many highways, leading to many different provinces, such as Pathumthani, Nonthaburi, and Ayutthaya.
Security camera footage have been checked and witnesses have been questioned to determine the direction the car was heading.