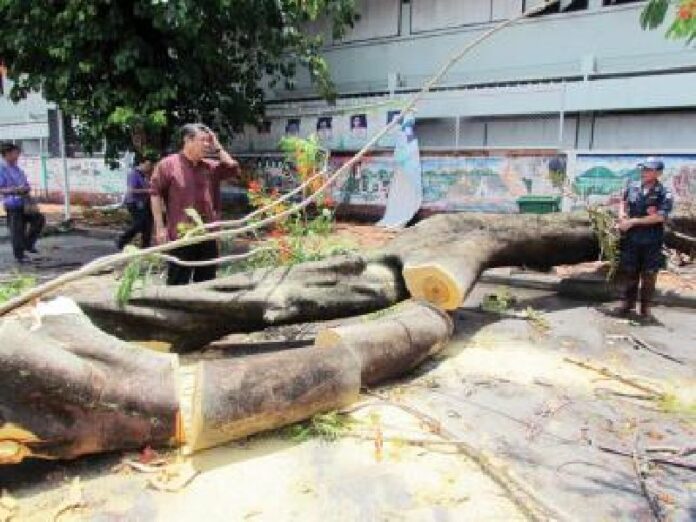 (8 May) A large storm occurred in Baandaanlaanhoy district, Sukhothai province, across 5 villages causing damage to 224 houses, with most damage concentrating on the roofs of the houses.
Electric lines were also damaged in some villages, causing a blackout which needed immediate maintenance. Many trees were uprooted by the gushing winds. Fortunately, no one was injured or killed.
After the incident, Mr.Somchai Kaosuwan, prefect of Baandaanlaanhoy municipality, along with Mr.Prateung Narasiriwinon, mayor of Talingchun municipality, along with Talingchan Municipal district staff members, arrived at the scene in response to citizen's troubles to provide initial aid.
On the same day, a summer storm took place in Mueang Naan district, Naan, causing a large tree to be uprooted and block traffic in many locations, especially next to the Naan town hall.
Rescue workers had to cut the branches off the tree and clear the branches that fell onto the parking garage of the government building, causing damage to many vehicles.
Apart from this, house number 62 of village 3, Mueang Naan district, which belongs to Ms.Yimyaem Udtangkai, was greatly damaged. The storm blew away the tin roof and damaged many household equipment.
Mr.Surapol Tiansood, mayor of Mueang Naan district, along with rescue foundation workers have responded to the incident.